6 Sandals That Inspire Every Women's Fashion World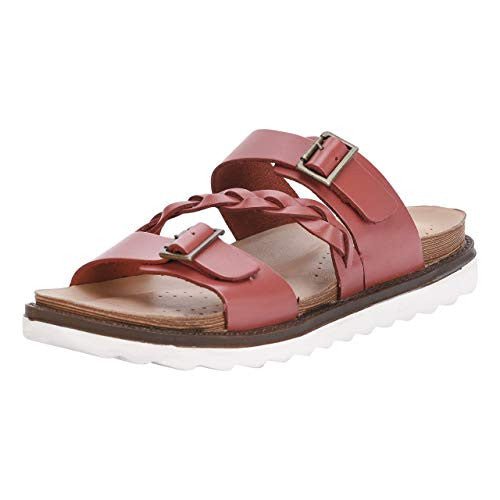 Are you bored of the usual heels and boots? Do you want to relax your feet? Do your shoes sometimes overshadow your outfit instead of complimenting it? Do you need something more sober? But what about being the fashion icon that you are in your group? Don't worry, we've got the solution to every problem of yours, and so we bring you some amazing sandals that are simple yet fashionable.
But before going into the details, there is one thing that you must remember before you buy a pair of sandals: The size (the fitting is the only thing that you must never forget while buying anything). 
Go on Diva! Show off the world the 6 sandals that are ruling the fashion globe today:
Mules: The one that never fade away. The word "Comfortable" defines them.


Slide: One of the trendiest footwear of the season, they are absolutely fashionable and comfortable and go best with casuals.


Wedges: These are casual heels that make you look sassy in your sundress, also giving you an elegant length and comfort. Usually they have an open top, ankle strap and a wedge heel (of course!). They are perfect sandals for occasions like wedding or a party.


Gladiators: Influenced by the great warriors of Rome, the flat and strappy gladiators are sure attention-grabbing and amazing to wear.


Heeled Sandals: You still love the heels? You don't need to abandon them completely. Thy give a cool look and you can wear them anywhere.


Flat Sandals: If you are lazy, but love fashion, then this one is for you. If you love walking, then this one will definitely keep you in a better shape. In fact, we believe that every lady out there must own one pair of flat sandals. They emit a lot of versatility and relaxed attitude.

Here's a pro-tip: if you're ready to give your feet some sandal-exposure, you need to make sure you pedicure them and paint a coat on your nails. Not only it will keep your feet safe, but also make them look pretty. Moreover, keep your ankles moisturized because when you wear sandals, your ankles are exposed to the external environment and they may crack. It's not just about your feet; you need to take care of your sandals too. Whether they smell, or squeak or do not fit etc. you need to get the symptoms and treat them right away. They are your all-time partners, after all.
So, that's all from our side. We hope you found it helpful. You don't need to worry about the shipping, because we provide it for FREE with no minimum order anywhere across the US. Get your sandals and show off your style!