Father's Day Shoe Gift Idea: The Best Dad Shoes to Buy on this Father's Day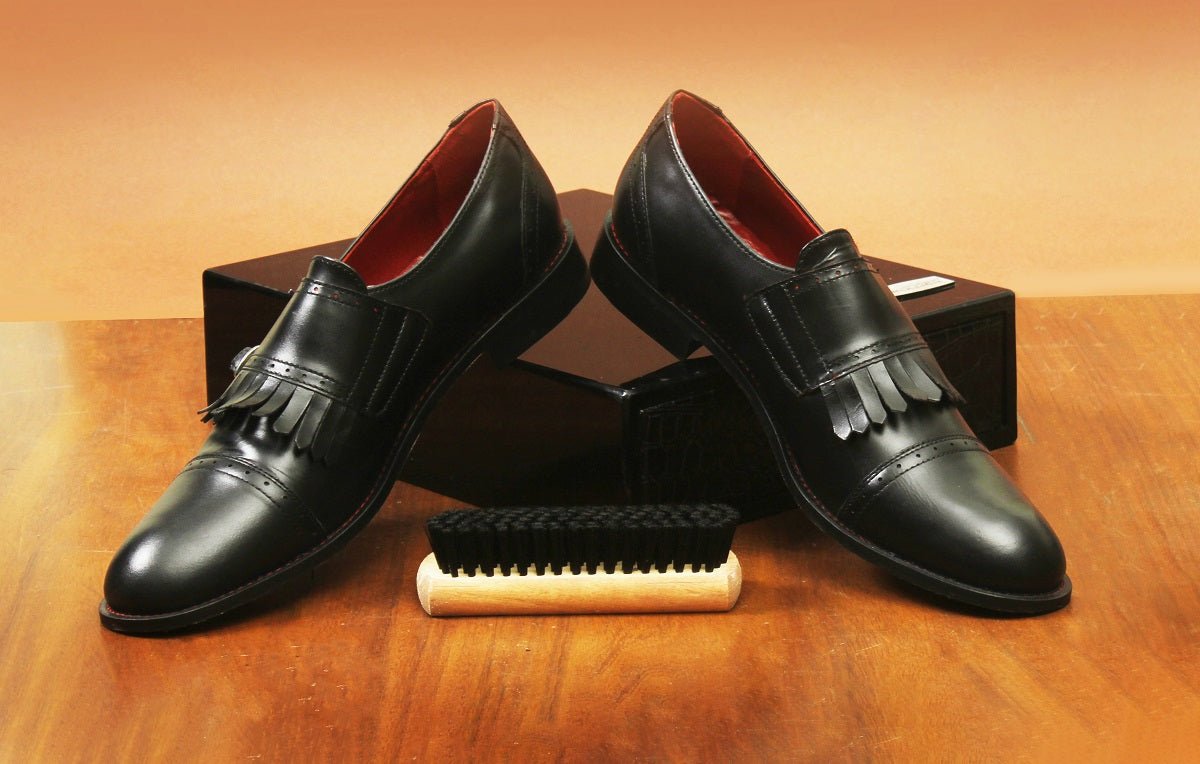 There are a zillion fathers in the world and a million and more doting ones in just the USA and they each merit a really extraordinary blessing. Thus, isn't 'gift shoes' perfect to cheer up your father and make his tired feet happy, the feet who have walked extra miles to give the best of comforts in life? Thus, we suggest that you gift shoes to them as the perfect Father's Day gift this year. Why?
All the more because we frequently fail to remember the penances and commitments our dads and male figures have made in our lives. Father's Day offers us the chance to show and communicate our affection, worship, and appreciation to these unique individuals. Here's to his extraordinary style look down - a stunning Father's Day Gift Guide to get an ideal gift for dad this Father's Day.
1. Best Dress Shoes for your Father to Wear at Party
At LIBERTYZENO we have some perfect gents dress shoes for your daddy as the ideal gift shoes. You can select from a plethora of shoes as a Father's Day gift from our Liberty Online Shoes Store because our stylists have crafted some stunning ones as that outstanding Father's Day Gift.
But to save your time, for now, we are sharing two best-selling gift shoes from our collection as per the recommendation of our stylist. The first one is the Nudge Leather Oxford Style Dress Shoes and the second one is Denton Leather Derby Style Dress Shoes that make an ideal gift for dad.
i. Nudge Leather Oxford Style Dress Shoes
Premium leather shoes with a burnished toe design that is the highest benchmark of classy & sophisticated look, which can go with whatever your father wears, whether to the office, parties, weddings or any other occasion, making it that outstanding father's day gift idea.
ii. Denton Leather Derby Style Dress Shoes
On the other hand, Denton Derby Style Dress Shoes are a class apart gift shoes, due to their design and unique colors styled in EEL Ostrich Print Lace Up Closure. The Cap Toe just provides it with an intense, formal, and sharp look. Furthermore, the additional FOOTBED insole is only what tops off an already good thing guaranteeing that your father's every step is comfortably relaxed - and that feeling will be an ideal gift for dad.
2. Best Shoes for Businessman Father
There are lots of varieties in our Father's Day Gift collection, but our stylist recommends the following as alternate options to each other as that lovely Father's Day gift this year.
i. Gosling Leather Oxford Style Monk Straps
The Gosling Leather Oxford Style Monk Straps Shoes are crafted out of the choicest hand-picked and finest GENUINE LEATHER upper with a rubber sole providing it the finest grip safety. Its double monk strap with a cap toe is the mark of an exotic assortment of craftsmanship and a stunning style statement to stand out as a perfect gift for dad.
The most ideal decision to wear if your father is going for a casual gathering, or a party; wear it and prepare to gather the commendations at various business meetings. All in one gift shoes, yet a superb father's day gift idea for the businessman father.
ii. Neeson Leather Oxford Style Monk Straps
If your dad is the super stylish and dapper kind, then Neeson Leather Oxford Style Monk Straps are just for him. This genuine leather finery with a triple monk strap and tow tone color simply stunningly accentuates your dad's footwear collection. What more, the leather-covered button snap is for an easy opening, and the elastic support on the other side is just an add-on for a superior perfect fitting.
In short, comfortable yet very elegant footwear for the daddy who by the time wears those to a gathering might be tired….and these will make him relaxed to immense levels. This relaxed feeling will actually be that amazing gift for dad!
3. Best Boots for Daddy to Wear at Family Function
Since you must be busy preparing for other festivities on father's, let our stylists do the selection job for you as a two-style Father's Day Gift Guide in this category. They have picked the following two for your beloved father as an ideal gift for dad.
i. Beau Leather Chukka Boots
The Beau Leather Chukka Boots designed in premium quality leather upper and long-lasting rubber sole will provide the father's day-long tired feet that perfectly comfortable and soft feeling with each step, right through the family gathering evening.
These come in two tone colors as that cute yet elegant gift for dad. If your father is a less-shoes-in-the-closet kind of person, then this shoe with a perforated toe and lace-up closure gives it that decent formal look as well. So one kind of gift shoes, many occasions to grace it!
ii. Jazzy Jackman Leather Ankle Length Boots
But for the super-stylish dad, the Jazzy Jackman Leather Ankle Length Boots that come in some six colors, are just beyond perfect! Red and white collections of the same being are best-sellers! As you can see, it has a genuine leather finish with a side zipper for easy sliding in of the feet.
Heels are just 1.5 inches high, so these stylish gift shoes are super easy on the father's foot. This stylish collection is yet another perfect father's day gift because it is multipurpose - can be worn at parties, regular, outdoor events as well as even safaris.
4. Best Casual Shoes for Your Father
Hornsby Leather Loafers Shoes as well as Reno Slip-Ons Tassels Shoes make up for that perfect father's day gift idea this year.
i. Hornsby Leather Loafers Shoes
See the first one the Hornsby leather loafer has that classic black color and that amazing print to go on for any kind of occasion. Plus it will also help your dad step out of that usual comfort zone when he wears those monochromes usually. These stylish ones will make him stand out in the crowd of daddies by being an amazing Father's Day gift.
ii. Reno Leather Slip-Ons Tassels Shoes
On the other hand you can see the image of the Reno slip-ons tassel shoes - the image speaks a thousand words for the shoe which is a Classic SILHOUETTE that is timeless with a twist, perfect for casual wear indoors or outdoors; a perfect father's day gift even for a slip on for offices, holidays, events and other special occasions.
5. Best Sandals for your Father for Any Occasion
i. Bidwill Leather Flat Sandals
Bidwill Leather Flat Sandals fall into that category of premium sandals that can be used in Regular, Formal and in Outdoor events as well. Its exorbitant design is the best in class and quality at LIBERTYZENO for a standing out as the unique Father's Day gift.
ii. Austin Men's Leather Sandals
On the other hand, Austin Men's Leather Sandals are an amazing father's day gift idea due to their comfortable leather straps with buckle close. Classic yet distinctive with closed toe design. Our stylists enlist them among the top 5 in Father's Day Gift Idea because with a rubber sole, durable and non-aging material makes it a perfect indoor as well as outdoor wear right from social events to beach holidays.
In Fact, our stylist has a great idea for your dad this Father's Day! Book a beach holiday for him as well as this footwear. And then head on to the beach for fishing, surfing, and other relaxed and comfortable activities to make it that perfect occasion to thank him for being your daddy.
Summing up….
You might not have some wise counsel for the person who has years and years of involvement in you, yet another pair of kicks can go about as some actual gift on Father's Day as that perfect return gift for all he has given you in life.
Regardless of whether he's been giving unobtrusive clues or nagging you about how casual you have been in life, your choice must never be casual when you select that choicest gift for dad this special day.
Thus, we enlisted above a stylish Father's Day Shoes Gift Guide, so that you can go ahead and pick from the many from our online LIBERTYZENO store that are a click away from bringing that wide smile on the daddy's face. Happy Father's Day to him and you! Cheers! And don't forget to rate us as well as write a feedback, because our improvement is the key to your heart.