Guess Who? It's Double Monk Strap for You!!!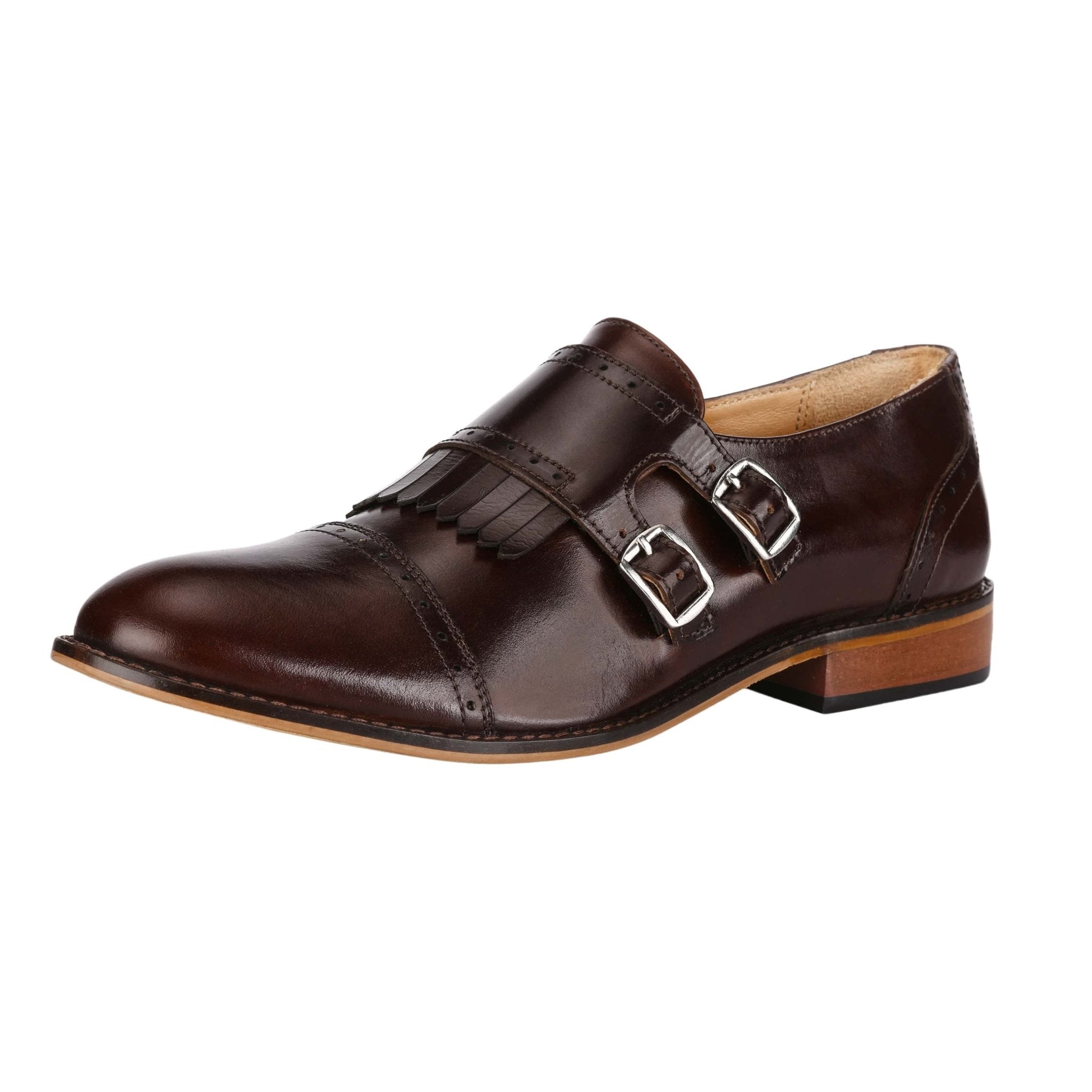 Hello There! How are you guys doing? I am here again. Oh, didn't you recognize me? I am your friend Mr. Strap…Double Monk is my first name and Strap is my last.
I heard from my friends at LibertyZeno that you guys are facing problems in understanding my family? Well, it can be difficult to get familiar with my peers and family because we all are alike but despite we all are different! We have features and qualities and style which make us way different from each other.
And I'm my favourite and so I can talk about myself endlessly. But I will stop right here and take you further to get you more familiar with my style.
Who Am I?
I usually suspect that you confuse us with formal families of Shoes. Well, you are right somewhere but not exactly! See, we do categorize use in the formal family but equally, enjoy the status of informal because of our versatility. We are cute adjustable family and can endure any situation very confidently. Our defining features are buckles, straps sometimes both that mean we do not come up with those confusing laces. We do not go along with laces. I am Double Monk Strap. I have two brothers. The elder one is Single Monk Strap and the youngest is Triple Monk Strap.
The only difference that you can spot in me is that have Double straps and I am in middle. And you know the best thing about middle; I am neither too sober nor simple nor too fancy to handle!
I am much secured by the two buckles hence; I can provide you with best comfort and flexibility. This is our timeless character which makes us more suitable for men.
Evidently, you would have noticed our other counterparts namely Oxford and Derby. But again we all are way different. I am not arrogant but I am definitely Superior then them.
But sometimes I can get funky with colours, so let me tell about that tale.
Different Shades of ME
I know that you men out there are bored with same colours in which the usual shoes come in, but I put you all in fault because you do not take the effort to look for us. See, I do sometimes come in conventional colours but my friends at LibertyZeno make sure that our hue range is variant and different from the usual. The colours that define me are classy and sassy. They are elegant so that you can wear me in those exotic weddings and those boring meetings too as well at beautiful dates with oh so pretty ladies that you go with.
Brown – Oh what to say about this colour. Brown ranges from dark to tan to light. They can be cool as cucumber and warm as the blazing sun. But in whatever shade they are in, they can go along with various outfits. You can pair them with outfits that are in shades of tan, brown, beige, green, pink, orange, rust, golden and many more. They are amazingly flexible.
Black – Black is the new Red! And black is always in trend. Black tends to give you the personality of a gentleman and royalty. It is the most dynamic colour that blends with anything you wear yet stands apart from the crowd. Just a precaution with black is that do not wear brown shades with black. They might not go along with each other.
Burgundy – This colour is distinct from others and men rarely opt for this. Hence, I consider this colour as unconventional which is chosen by brave! If you want to try a different look for yourself then definitely go for this colour. Though keep in mind to pair your outfits very carefully as this colour has the tendency to break or make a whole outfit. Wear shades which compliment burgundy Double Monk Straps.
Where to Look for Me?
I am little dramatic, and so I would say just close your eyes and think of me! I will be there in front of you. Hahaha!!! Nothing works like that. But you can find me by searching for Double Monk Strap Shoes for Men, or simply searching Mens double monk shoes, mens double buckle monk shoes, mens double strap monk shoes leather. See unlike you, my dearest ones at LibertyZeno have given me a lot of names so that you won't forget me!


You can visit LibertyZeno to buy mens double monk strap shoes online. They are available 24*7. So you can come at any time and meet me, I will be always there for you. So, until next time…