Ultimate Guide to Triple Monk Strap Shoes for Men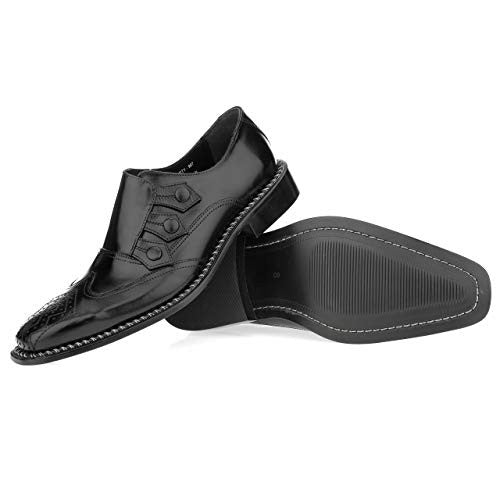 Have you ever imagine how this world would look like if it is painted in a single colour? That means maybe in just Black or Brown or Grey Colour? Yes, we do know the feeling. It is getting hard to visualise. Well, it's because colours add beautification and attractiveness to the whole thing and our eyes love to see that. This whole thing is synonymous to your shoes. So let's dive in the world of stylish shoes which can add an exciting and unique vibe to your closet.
Triple Monk Strap Shoes
Monk Shoes has quickly captured the men's world with its unique and extraordinary style. It takes up your normal footwear and adds a dash of fashion, masculine and edginess. We at LibertyZeno understand that gentlemen like you appreciate sophistication yet dressy footwear. And that is why Monk Shoes are highly recommended to you. But if you want to add quirkiness to your style statement then single or Double Strap Monk Shoes will not be enough. You would need more than that.
Let's Know More about Triple Monk Strap Shoes
Well, in the series of Monk strap shoes, Triple Monk Strap shoes for men are unconventional. They are understandably noticed with three straps or a buckle that goes on top of them. Men usually on the safer side opt for Single or Double Monk Shoes but Men who like to take the challenge to change their way of styling usually opt for Triple Monk Strap Shoes. These shoes are adventurous and yet add the essential style statement on their own. And the best feature is without a doubt their lace free and adjustable buckles. These adjustments give a great fit to your feet and a lasting impact on your personality.


Now you must be thinking on how to Dress them? Well like these shoes, dressing them is totally an adventure worth taking! Let's dive in.
Leather Monk Strap Shoes
Sturdiness and reliability are the two words to use for these leather Monk Strap Shoes. Their characters are timeless and if you preserve them with utter care, they are last-longing as well. Leather material provides the perfect formal look that you always desire to achieve.
Classy Combinations
Oxblood or burgundy Triple Monk Strap Shoes look absolutely high-class and superior when it is paired with the right combination. Black navy and white colour contrasts perfectly blend with these shoes to give professional and rocker-style.
You can also try Black Triple Monk Strap Shoes and Brown Shoes with jeans with light colours. The combinations could vary from tee with jeans and an overcoat coupled with these Triple Monk Strap Shoes. A perfect combination for any semi-formal function.
And for a change why don't you try wearing Monk Strap Shoes instead of those lace shoes with your suits! And at the next prom night, do not forget to make stylish statement by wearing tux and combining it with a pair of Triple monk strap shoes.
And if you want to go out of the league and try something extra ordinary, try Black Triple Monk Strap Shoes with Chinos and Sweaters in winter to look dashing and handsome.
Though we are unable you to provide with the perfect tuxedo or chinos of your choice, we sure can give you a flawless pair of Triple Monk Strap shoes which you can buy Online on LibertyZeno, a brand which is trusted by many for shoes. Once you choose your shoes from here, there is no returning back!
So, are you still thinking and pondering on what to buy, which colour, what to pair with and stuff; well we just told you some of the important bits. So stop thinking and get your feet to take you to all the right places.