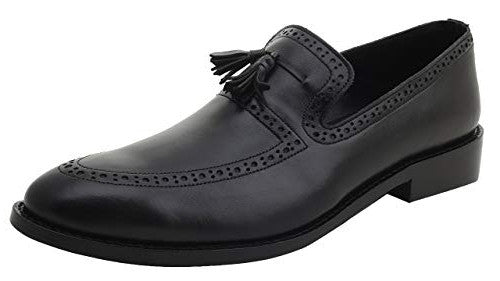 A man's shoes say a lot about him, everyone wants to look the best at every moment and for achieving this collection doesn't have to be vast but, all you have to do is invest in a few key shoe styles that can pretty much compliment and uplift your outfit choice.
Men's shoe styles can vary widely, so it's good to have knowledge and understanding of the different options available. It's not that difficult to make a fashion statement with shoes anymore.
There are really just two simple rules that you need to follow. First Think quality, not quantity, to have a small but versatile collection to cover all bases. Second, forgo fashion and stick to comfortable classics. And remember, that both of these rules are applicable when you buy men's shoes online from LIBERTYZENO where we have provided a vast excellent quality of shoes collection for the user according to their need and fashion.
So take a look at our guide to make sure you make smart footwear choices.
The first shoes you should start with are the dress shoes. Nothing can beat the class and sophistication of lace-up dress shoes. A pair of formal black leather dress shoes will carry you through the most formal of events - weddings, meetings, interviews, conferences, seminars and so on. Every man should have these functional-formals in his wardrobe.
LibertyZeno is the brand name of producing a variety of formal dress shoes.
Your footwear complements your entire outfit. This monk strap shoe is simple but durable, made from leather so it is designed to last. The brown color of this shoe is deep and rich, and hides certain scuffs and stains easily.
Single or Double strap monks are both considered to be fashionable. However, three monk straps are more of a trendy option provided by LibertyZeno. A good shoe for a decent price, without any defects or failures in design.
Ankle boots might be the coolest footwear ever made. They've graced the feet of rock stars and a great piece of footwear that goes a long way. Boots are usually more geared toward the cooler months and it goes AMAZINGLY well with dark wash jeans and wool trousers. But don't be mistaken, you can also wear these year-round.
These lace-less pair of tassel/loafer shoes are comfortable, versatile and transitional that makes it such a staple item in every man's wardrobe. They can be worn anywhere and with anything – try different prints, textures, and colors that best reflect your style statement.
Finding a perfect pair of boots for you may seem like a challenge but, No matter the occasion, the weather or the outfit, here LibertyZeno provides the best footwear that will perfectly suit your needs. 
Online shopping is a boon for men who don't find much time to go out and shop. Now enhance your wardrobe by doing online shopping at LibertyZeno here we offer Free Shipping anywhere across the USA at no minimum order with 30 days of return policy. We hope this article will help you to modify your wardrobe. So Stay Home and Shop Online.