Your Shoe Guide: Single Monk Strap Shoe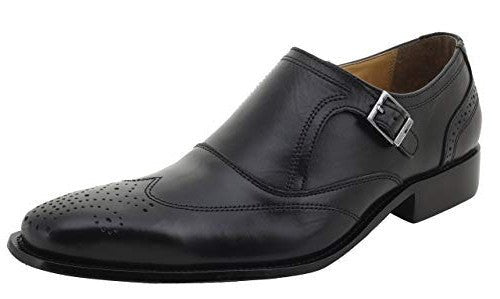 A famous poem suggests that a man should take the road less traveled but before doing so, first get some NEW SHOES. A shoe has the tendency to uplift you physically and your attitude along with your personality. When women are asked what they like the most about men, they always look down at shoes. So believe or not, you have to invest heavily in your shoes.
The question is obvious! Which ones? Well, we are here to suggest to you the best that can take you to good places. So, let's begin.
Single Monk Strap Shoes for Men
There are varieties of shoes available out there, but a true gentleman would want something which can highlight the best features within him. So here comes in picture Monk Strap Shoes for Men. Defined by a single wide strap that closes over the instep and fastens outside using a saddle buckle, Single Monk Strap Shoes are sure to give hassle free style that you always wish for. Traditionally single monk strap was the only shoe that uses buckle and strap instead of laces but today, single monk strap has counterparts which are a double monk and triple monk. Single Monk Strap Shoes can provide you:
Elegance – When it comes to formal shoes, men usually go for black or brown lace shoes without experimenting much with other contemporaries. Single Monk can be a great alternative to that. And LibertyZeno has the best collection for Single Monk to provide the Elegance that a man desires when it comes to Shoes.
RTW – Ready-To-Wear. This is the most efficient form of formal shoes which will be your favorite once they get space in your wardrobe. Who wouldn't want something which saves their time and looks voguish every time! They are sassy yet so simple and that's why LibertyZeno highly recommends Single Monk Strap Shoes for Men.
Versatility – We understand that it is hard to have different shoes for every different occasion. You simply cannot own multiple pair of shoes, unless you want to have a collection. Everyone wants one shoe that can satisfy multiple occasions. Hence, we offer you the Single Monk Strap Shoe. Be it a meeting, a party, wedding or any formal or close to formal function, you are always ready with these shoes.
Colour & Shape – If you think that Formal Shoes are restricted to single colour or typical shape, then let us break that deal for you. Single Monk strap shoe at LibertyZeno comes with manifold shapes, thickness and sizes. The buckle upon it differs from square, rectangle to oval and more. Have you ever seen it with laces? Well, that's the difference with these shoes. And colour hues range from black to brown to burgundy.
Material – Today, some fast-fashioned brands have started using synthetic material for shoes. Others use exotic material which comes from animal skin. But for these shoes, leather seems to be the best! Plain, solid colour leather shoes are just right for you. Once you catch up with its smooth and edgy performance, you can experiment accordingly. Just keep in mind to stay away from extreme high-shine, boxy shoes. Classy should be the motto when you look for shoes.
Why to Buy from LibertyZeno?
Just as other shoes, there is a variety of sellers out there who promises great monk shoes for you. But if you want to buy the finest quality of Single Monk Shoes then head straight to LibertyZeno. Here we provide quality at affordable prices. If you even want to buy online apart from stores the single monk strap shoes, then LibertyZeno is the perfect place. You can check them at your convenience and our customer service is available 24*7 with smooth services.
So, next time when in doubt about what to buy in shoes, simply go for Single Monk Strap Shoes and you will thank us later!