Christmas Red Shoes Collection for Men By LIBERTYZENO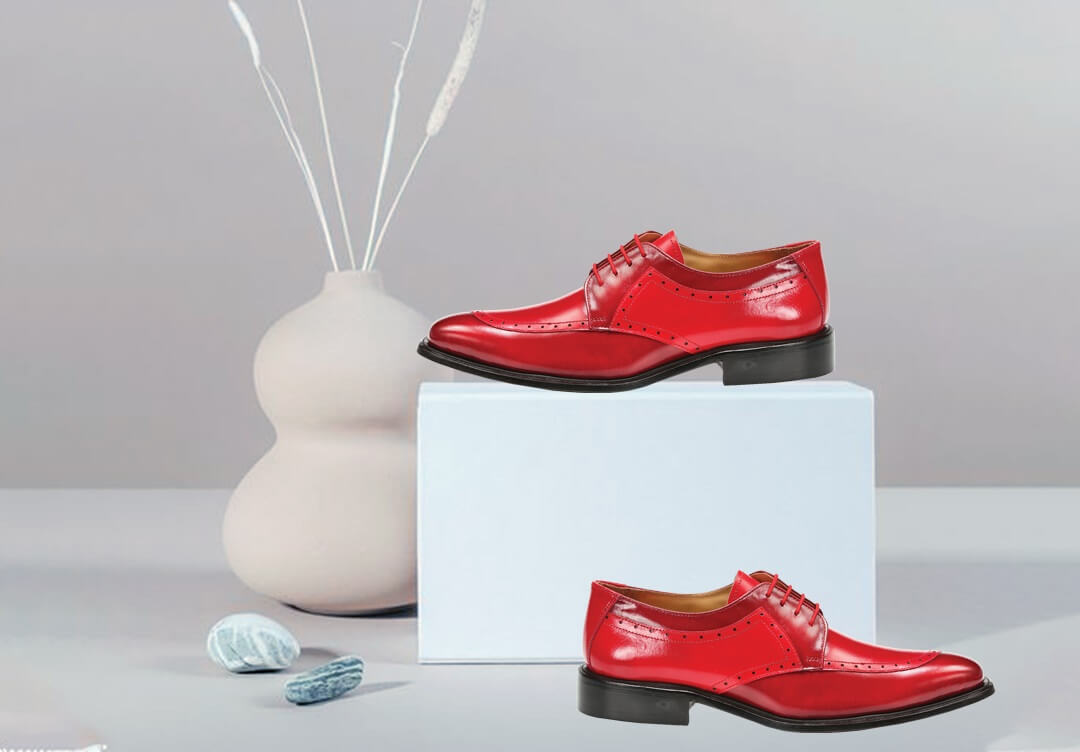 Among all festivities, Christmas is a special occasion giving you the ideal reason to spruce up and treat your feet to something somewhat bright red among Shoes for Christmas (Men's).
The happy period likewise allows you the opportunity to treat your feet with elegant red and furthermore have a great time, novelty styled. So what types of shoes for men serve as Christmas shoes for men in red color, on the big day?
Men's Red Shoes Collection for Christmas by LIBERTYZENO
As a stylish man, it's important to have perfect shoes that work great at a Christmas party. And LIBERTYZENO's Christmas shoes collection's nine designs will make you shine out at any kind of Christmas gathering.
1. David Leather Derby Style Red and Black Dress Shoes

Among red and black shoes for men, this pair is an Elegant Combination of Genuine Handmade shoes that lend classy looks to men and would suit any kind of Christmas party, whether formal or semi-formal. What's more, the Medallion Toe sets an incredible illustration of a popular and dynamic feel to Christmas day.
2. Emerald Leather Oxford Style Red Dress Shoes

As discussed above, Oxford style shoes are the best party dress shoes for men, because these gel with any kind of attire, whether formal or casual. But these red leather shoes for men are among the top due to their high-end in-vogue style and its medallion toe, which is the mark of dynamic shoes for men.
3. Gutta Textile Casual Red Sneakers With Black Bottom 

These are our top favorite Shoes for Christmas (Men's) due to their unique Textile & Man Made Upper along with an EVA sole which you won't find elsewhere. Plus the semi-BROGUE Toe provides a bold, formal and sharp look, with any kind of men's outfit.
4. Snapper Leather Casual Sneaker Red Casuals

Men's Christmas sneakers never go out of style. And these pair up with an assortment of outfits like pants, denim, joggers, and shorts - just anything! So pick them if you are the adventurous kind.
5. Tylor Red Leather Chukka Casuals

Among men's red leather boots, these types of shoes for men are rated very high not just due to their comfortable sole and design but also due to their versatile nature to pair with any kind of outfit for men. Try these this Christmas and you can thank us later.
6. Blacktown Leather Oxford Style Red Dress Shoe

This Red leather shoes for men in our Christmas shoe collection at LIBERTYZENO are an elegant pair of genuine leather shoes that stand out as best in class and elegant. Again work great for Parties, Regular, Formal, and indoor/outdoor occasions alike going along with any kind of wardrobe, be it a suit or jeans, or formal pants. And with just a 1.5-inch heel, it keeps you on your toes during the fun, but is comfortable as well.
7. Casanova Leather Oxford Style Red Dress Shoes

As the name suggests, its Swanky Crocodile & Lizard Print gives an eye-catching, crowd-puller look. And the Captoe makes you look trendy and dynamic! So ideally a great Christmas shoe collection to shine out at the Xmas party!
8. Rush Leather Desert Red Chukka Casual Boots

These Men's red leather boots are for those men who love to go beyond the Oxford Style. Plus, these are an ideal pair for outdoor Christmas parties if the winter has peaked up. These Red Boots are really warm and comfortable which is phenomenal when the temperature drops. The grip sole of these Men's Christmas shoes provide you with that additional piece of consolation while handling frigid surfaces and any cushioning you sneak in, is just a better idea.
9. Snazzy Leather Oxford Style Red Dress Shoes With Black Bottom
Among our best Christmas shoe collections at LIBERTYZENO, this pair goes great as party shoes for men at offices, casual Xmas gatherings as well as hardcore party nights.
You will ask us how? Well, the color is code one; its textured front is code two, and code three is its round toe that makes it gel with any kind of attire, thus, ideal as Red leather shoes for men amid the Men's Christmas Shoe collection.
Remember, Christmas is a bright occasion. Christmas shoes for men must be such that your overall looks confident and dapper. So plan a wardrobe in contrast and for more tips keep reading our expert articles.