How to Choose [winter & snow] Boots For Men in 2023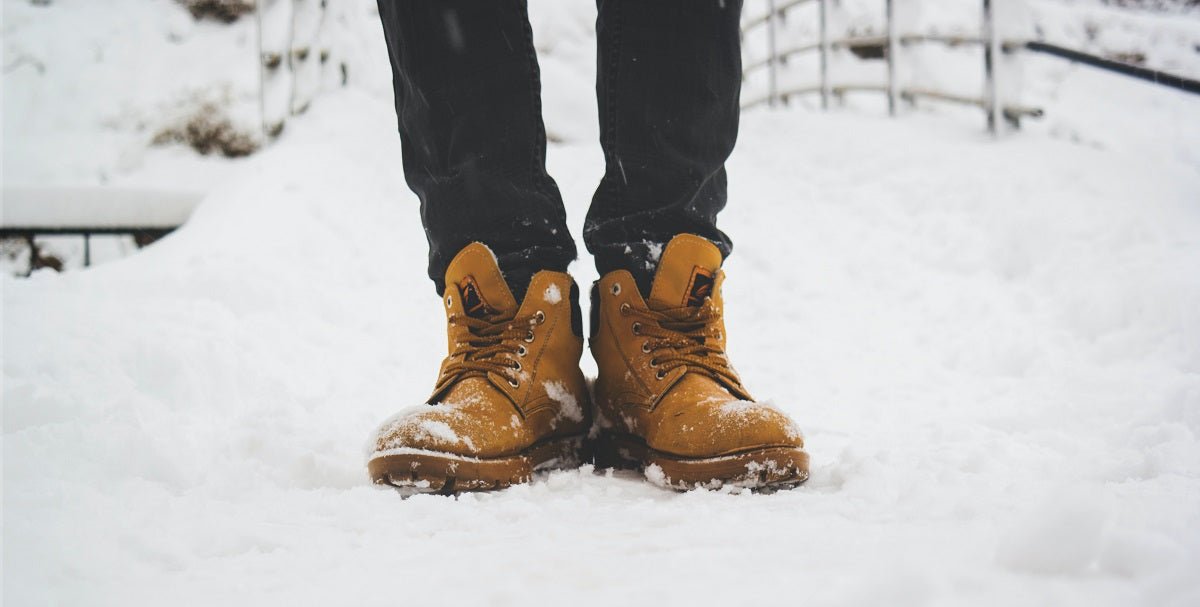 Winter is just around the corner for the Northern Hemisphere... and for some; the nip is already in the air. The woolens will be out soon, to embrace you in their coziness of it all. Your feet will need the same warmth and love. So let's say Hello to Winters with LIBERTYZENO boots. But, do you know how to choose the perfect snow boots for men for winter?
Ideal winter boots for men are those that can work in dry as well as snowy/icy conditions. This means it must have ample warmth; It must not have a long heel that can leave you in pain or make you slip. It must be high enough to keep your calves warm; It should have good waterproofing and above all, it must comfortably fit you well!
All these qualities you will find in our LIBERTYZENO Exclusive Winter Boots for Men Collection:
5 Best Winter and Snow Boots for Men
When it comes to men, winter boots are the best choice for a casual and semi-formal look. Buy and discover the best collection of LIBERTYZENO men's winter boots for all kinds of casual, dress, functional, outdoor, rugged, and stylish with the heel, without heel, and more.
1. Jerry Leather Ankle Length Boots
One of our best-sellers among men's cold weather boots, this boot is crafted in genuine leather which is the perfect balance of style, comfort, class, and fashion statement among winter boots for men.
We have added a rubber sole to it for an exceptional grip and the 1.5-inch rubber heel is great for your ankles. The lace-up closure will ensure comfort throughout the day. Moreover, it comes in four color variants - black, light brown, brown, and tan.
2. Tom Leather Ankle Length Boots
This one though might look similar in looks, material, and detailed propositions to the one shared above, but its zipper look is an added style quotient for men, who wish to stand out even on casual occasions. No wonder, both black and brown variants have been the top sellers at LIBERTYZENO Online Shoe Shop.
3. Hopper Leather Ankle Length Boots
Coming in black and brown tones, this genuine leather boots' upper and its smooth inner textile lining score high on comfort in men's fashion. A rubber sole and a one-inch heel lend it that extra grip, even on snowy/icy terrains. Moreover, with a lace-up closure, you can easily take it off when required.

The best part of this shoe pair is its clean and simple look - it can be worn both on casual as well as formal occasions. So you don't have to carry an extra pair of men's cold-weather boots.
4. Jazzy Jackman Leather Ankle Length Boots
Genuine leather upper as well as the lining, a premium hand-crafted sole; a side zipper for easy entry and exit of the feet, and five colors  - cream, red, black, brown, and grey - just make it an irresistible pair of snow boots for men! Because we have not had a single customer so far, who picked up just one color - they have always picked up two or three from this collection since it can be worn at casual, business as well as semi-formal events.
5. Midas Leather Safari Boots
This pair of LIBERTYZENO shoes are our fashion statement when it comes to long-lasting durability and sturdy support with simplicity and elegance. As you can see, the sole has a firm grip. Its exclusive anti-fatigue comfort technology provides all-day comfort to your feet, whether you are at a party or outdoor event or for that matter a Safari.
How to Pick Perfect Winter Boots: Tips For Men
The winter boot is directly acknowledged with how it is used. However, if you wear the boots daily, they guard your feet. Here are the tips on how to pick the perfect pair of men's winter boots.
1. Consider Comfort on Top Priority
We recorded this as number one since, supposing that it isn't comfortable, you're not going to wear it in any case! If you have a wide foot, a limited cut toe likely won't feel great to you. So ensure you pick comfortable men's cold-weather boots.
2. An Ideal Size
While choosing your winter boots for men, give specific consideration to the size of your legs and lower legs to track down a complementing style. In the event that you have a more extensive calf, search for boots made explicitly for wide calves. Boots stretch and in due course of time, if you don't use a shoe tree, they might loosen further. So keep such aspects in mind.
3. Suitable Material
When purchasing boots, ensure you pick the best material. For boots that will be worn regularly or for working, we suggest that you pick leather boots because those are the most durable. With little regular care, they keep the feet suitable as per the weather outside. But in case you don't prefer leather, LIBERTYZENO also offers boots in suede leather as well.
4. The Arch Support
This is presumably something that makes boots generally awkward. On the off chance that you have any sort of curve in the foot or if you have a flat foot, then you must have suitable arch support. Else the feet will feel miserable.
5. A Comfortable Heel
Few men love to have a heel in their boots, but if it is not comfortable, it can be a very painful proposition. Thus, look for a heel height that ensures you a comfortable day, not just a few hours. Buy not what fashion trends dictate, buy what your feet demand! This is one of the most essential tips when you are deciding to buy your perfect winter boots for men.
6. Consider Your Toe Shape
If you have narrow feet then the narrow snip toe will be an ideal boot.
If you have wide feet, then go for the square toe men's cold weather boots. But if you aren't able to find the above, then pick up the round-toe boot which can go with both narrow and wide feet.
7. The Test Drive
Yes, the test drive is a must to ensure that you can spend a comfortable day in those new pairs. LIBERTYZENO's online shop offers you an easy exchange policy, just in case you don't feel comfy enough and want a better option. Sore feet are the last thing anyone wants!
LIBERTYZENO pairs of winter boots for men is your one-stop-shop when it comes to fashion, style, comfort and easy to buy, because we craft our shoes with love and make your shopping experience a great one not just via offering you a vast collection, but also by giving you style tips to buy your perfect pair from time to time.
FAQs
How much do men's winter boots cost?
Good quality men's winter boots cost around $60 to $250. It is good to invest in the quality of the upper material and sole. Good winter boots keep your feet warm, dry and planted on the ground.
What kind of boots to wear in the snow?
Consider the good rubber sole or heavy lug sole, water-resistant upper materials and good build quality for perfect snow boots.
How long do winter boots last?
On average good material winter boots last around 3 to 4 seasons. It totally depends on the quality of winter boots, weather conditions, and how often you wear them.