Wearing Shoes Without Socks: A Guide To The Sockless Fashion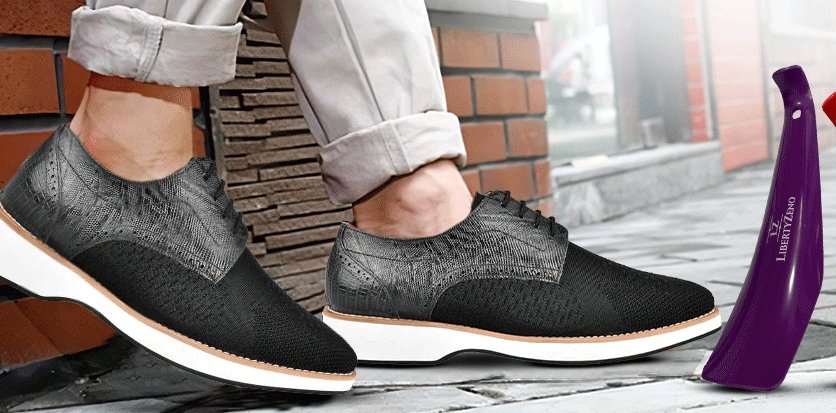 Ahoy there, fashion-forward gentlemen! Are you ready to take your style game to the next level? Today, we're diving deep into the art of wearing shoes without socks. That's right, no more boring, mundane socks suffocating your feet. It's time to embrace a daring and dashing look that is sure to turn heads. Are you ready to join the sockless revolution? Let's get started!
Take, for instance, the ever-stylish David Beckham. This international icon has been spotted on multiple occasions sporting the sockless look with effortless panache, whether it be at a red carpet event or a casual day out. Another celebrity who has embraced this trend with great success is none other than the inimitable Ryan Gosling. His sockless appearances in films such as Crazy, Stupid, Love and Drive have become the stuff of fashion legend, inspiring countless imitations around the world.
Suitable Occasions - Shoes Without Socks Fashion Statements
Wearing shoes without socks, my dear fashionistas, is a bold statement that has been making waves in the fashion industry for quite some time now. When it comes to pulling off this look, timing and occasion are key. So, let's take a moment to discuss the suitable occasions to wear shoes without socks fashion statements.
Summer Season
Firstly, let's talk about the summer season. As the sun shines bright and the temperature rises, it's time to shed those heavy socks and embrace the bare ankle trend. Whether it's a casual day out, a summer wedding, or a night out with the boys, wearing shoes without socks can elevate any look to new heights.
Formal Occasions
Secondly, formal occasions such as black-tie events or business meetings can also be an opportunity to flaunt your no-sock style. Paired with a sharp suit and a confident attitude, dress shoes without socks fashion can make a powerful statement that exudes sophistication and class.
At the Beach
Lastly, a day at the beach or by the pool is the perfect time to go sockless. Slip into your favorite sandals, loafers, or boat shoes, and let your toes bask in the warmth of the sun.
When is it Okay to Wear No Socks with Shoes?

It's okay to wear shoes without socks in warmer weather, such as summer or spring. Casual or semi-formal occasions, such as beach parties or garden weddings, are also great opportunities to flaunt your bare ankle style. However, it's essential to ensure that your feet are clean and dry to avoid any unpleasant odors or discomfort.
When is it Not Okay to Go Sockless?
Wearing shoes without socks fashion can be a stylish statement, but then there are times when it's not appropriate to go sockless. For instance, formal events that require a strict dress code, such as black-tie affairs, are not the place to show off your bare ankles. Similarly, winter and colder months are not suitable for this trend, as your feet may freeze or become wet.
Best Shoes to Wear without Socks
Ah, the feeling of bare feet inside a shoe. There's nothing quite like it. For fashion-forward gents looking to ditch their socks, we've rounded up the best options of shoes you can wear without socks to keep your feet looking stylishly bare.
Loafers without Socks
With their timeless design and effortless style, loafers are a quintessential shoe for men who value both style and comfort. They exude a classic yet contemporary vibe that's perfect for any occasion. Whether you're wearing them with chinos or jeans, loafers elevate your look with minimal effort. And the best part? They're perfect for wearing without socks. Look for loafers made of supple leather, with a relaxed fit that hugs your feet.
Sneakers without Socks
Sneakers are a wardrobe staple that every man needs in his closet. But did you know they're also a great option for going sockless? Look for sneakers made of breathable materials like mesh or canvas, which allow your feet to breathe while keeping them cool and dry. From classic white to bold and bright, there's a sneaker out there to suit every taste.
Monks without Socks
Monk shoes are a stylish and sophisticated option for any man looking to go sockless. With their distinctive buckle fastenings, they add a touch of elegance to any outfit. Look for monks made of supple leather with a soft, flexible sole that conforms to your foot's shape. Pair your monks with tailored trousers or dark denim for a sophisticated look that's perfect for any occasion.
Oxfords & Brogues without Socks
To wear these dress shoes without socks, look for styles made of high-quality leather, with a sturdy sole that provides support and comfort. Opt for a simple, streamlined design that won't overwhelm your outfit. Pair your black, brown, or burgundy oxfords or brogues with tailored trousers for a smart, sophisticated look that's perfect for the office or a night out.
Slip-Ons
With no laces to tie, they're perfect for men on the go. Look for slip-ons made of soft, breathable materials like suede or canvas, with a comfortable and flexible sole. A sleek, minimalist design is key, as it will give your feet the freedom to breathe without sacrificing style. Pair your slip-ons with chinos or shorts for a casual, laid-back look that's perfect for summer.
Sandals without Socks
Sandals are the ultimate in summertime footwear. With their open design, they allow your feet to breathe and stay cool on even the hottest days. Look for sandals made of high-quality leather or suede, with a comfortable footbed that provides support and cushioning. Pair your sandals with shorts or linen trousers for a relaxed, summertime look that's perfect for the beach or the bar.
Which Accessories Are a Must When You Go Sockless?
No-show Socks
Complete your outfit with the effortless style of no-show socks. These socks are the perfect finishing touch to any look while providing the comfort and support you need.
Foot Powder
A touch of this finely milled goodness will keep you feeling fresh and dry all day long. A perfect answer of how to wear shoes without socks and not sweat.
Insoles
Step up your shoe game with the luxurious comfort of insoles. Designed to cushion your every step, these accessories will keep you looking and feeling your best from the ground up.
Moleskin Patches
Keep your feet feeling pampered and protected with the plush indulgence of moleskin patches. These patches are the ultimate accessory for any man who demands the very best.
Sockless Fashion Styling Advice
Show off your ankles with confidence by opting for pants that are slightly cropped or cuffed.
Invest in high-quality leather loafers or boat shoes to complete your sockless look.
For a more casual vibe, pair your sockless shoes with denim shorts or chinos.
Be sure to keep your feet clean and dry to avoid any unwanted odors or discomfort.
Experiment with different sockless styles, from classic and preppy to edgy and urban.
In conclusion, wearing shoes without socks can be worn on a variety of occasions, ranging from casual to formal. Remember that confidence is key when it comes to pulling off the sockless look, so own your style and wear it with pride.