Take Your Look to the Next Level with LIBERTYZENO Premium Shoes Collection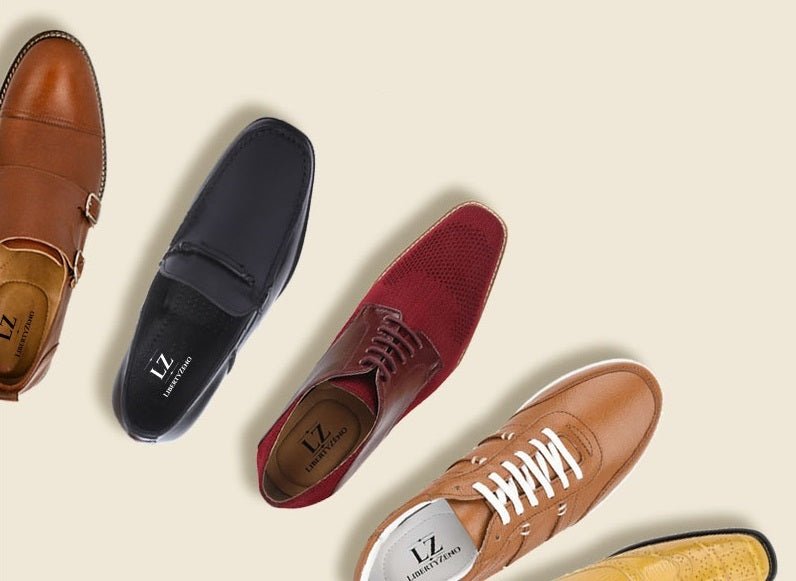 Blending your clothing with your footwear is truly essential to draw out the perfect measure of style. This is one motivation behind why men accept that their shoes are a point of convergence in their dressing. But do you know how to enhance your looks via earning the right pair of shoes? Or which kind of shoes should be paired with what kind of attire? In case you are fretting about what to wear and how to wear, LIBERTYZENO as always is at your service!
Since footwear has a fundamental impact on a man's closet, thus LIBERTYZENO shoes have been styled in a way to complete your outfit with viable and in-vogue fashion. So let's do a rundown of what and how you must wear some best shoes from our exclusive collection to take your look to the next level.
Exclusive Men's Shoes Collection At LIBERTYZENO
These days, shoes have become a status symbol that reflects your personality. It is thus important to wear the right shoes to improve your appearance. At LIBERTYZENO we have a long list of innovative, trendy, stylish, and comfortable shoe models that you can adapt to your fashion.
1. Debonair Leather Oxford Style Dress Shoes
Again available in classic shades of black, brown, and tan, this pair of shoes is an eternal comfort zone for those who love to slip in and out of casual and formal occasions, simultaneously. Pair it with suits or formal pants and shirts, and you will have the world admiring your style. Attires in sky blue or blue and even burgundy look great with these. Whether it is a party or a formal meeting or for that matter a wedding, our Oxford Style Monk Straps are your ultimate style footwear.
3. Jerry Leather Ankle Length Boots
This is coming from our exclusive fashion statement range that will add that extra zing to your attire for a wedding, party, and to some extent some casual outing like a date! Team it up with a floral shirt and plain pants and see the crow swoon to your looks. Flexible footwear, that is outstanding and unlike usual plain loafers. No wonder it takes your look to another level by lifting up the fashion quotient.
5. Stud Man-Made Casual Sneaker
This Casual Shoes coming in white and navy variants with a zing of red, these shoes are your ideal companion for casual outdoor dressing. Team them up with shorts and a pulled-out shirt, or a polo T-shirt and jeans, or even cargos and a fitting shirt, they will enhance each attire to give you that extra fashion mileage. Moreover, their super-light design gives you great comfort, so these can be your indoor workout partner, walking buddy, running mate, and even your gym shoes.
6. Colorado Suede Leather Chukka Casuals
Coming in nine color variants, we advise that you must actually have at least two colors in your closet from this range. Whether it is smart casual occasions, or business casual ones, our suede leather chukkas casuals, when worn make the heads turn.
Let's share some tips for pairing them up with various attires. If you are up for a casual outing, then jeans and shirt/t-shirt or Bermuda shorts with a casual T-shirt will ideally partner with these shoes. Another casual style could be a jacket or blazer donned with jeans and a T-shirt. But if you wish to wear them for work, then pair them with a cotton shirt and trousers. For winters, add a neat blazer or cashmere sweater for that dapper look.
7. Uvex Leather Chukka Casuals
Black, royal blue, white and red - coming in four color variants to choose from - these are the Best Choice if you are planning to gear up for a special occasion. The black variant can even be your semi-formal companion. What's best about these shoes is that, except for formal suits, you can team them up with anything under the Sun and grab as many compliments as you can imagine. We remember how a groom recently paired this Red LIBERTYZENO pair with his Cream-and-Gold Jodhpuri attire!
LIBERTYZENO shoes are crafted with love and a fashion sense that will keep you apart from the crowd. Thus, what we have shared above are styles that we thought would make you look great. But you can always experiment with our collection and your wardrobe keeping in mind your liking and sense of fashion. Now that's the edge LIBERTYZENO shoes have above others - our products give you the privilege to experiment beyond the rules!