Leather Vs Rubber Sole: Which is the Right Sole to Pick for Dress Shoes and Boots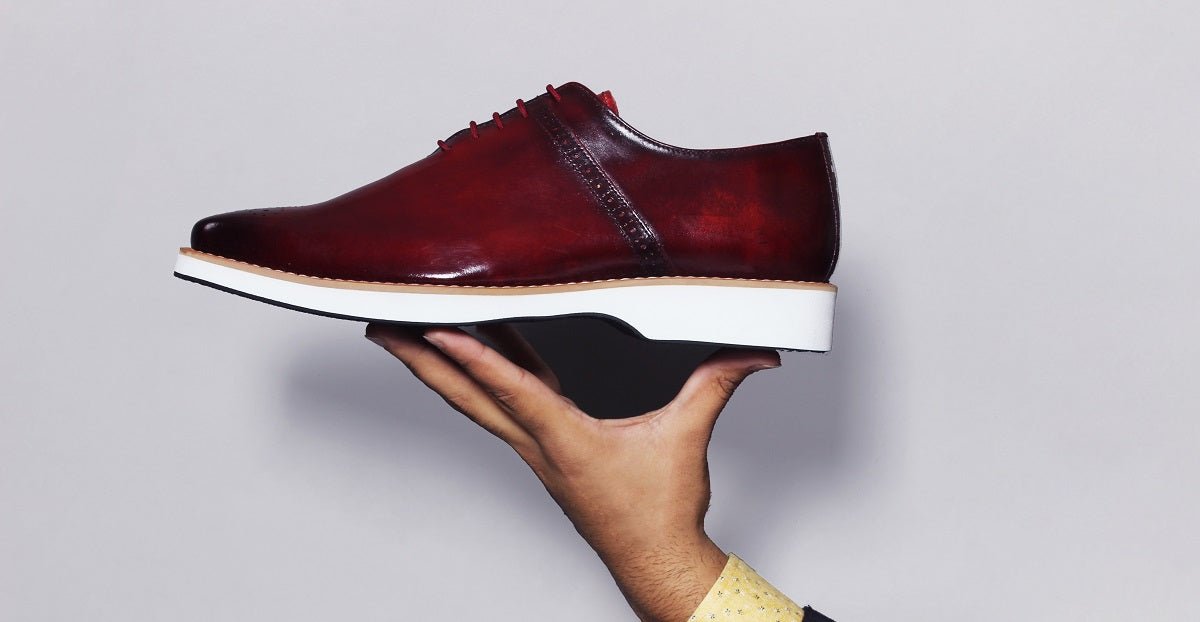 Picking the appropriate dress shoes or boots is at times very tricky for men because they are unable to decide on one general yet very significant thing - is leather sole better than rubber?
Leather vs Rubber Sole - which one is better is an unending debate because most of the men prefer to buy shoes in these two sole types due to their good durability. But, leather sole vs rubber sole actually depends on multiple factors like comfort, durability, sole grip and style.
How The Leather Soles are Different from Rubber Soles
Let's discuss all these factors one by one and before that let's find out how both types of soles are different from each other.
Leather Sole
Not many are aware that for leather sole to be comfortable and durable, it needs to be blended with the right amount of cork. An ideal mix creates the right cushioning and comfort that leather alone cannot ascertain. Leather sole is eco-friendly as well as easier to replace if need be.
Rubber Sole
Rubber soles originally became famous for athletic and sportier shoes given their astonishing foothold and grip. Being rubber, these soles have a great ability towards shock absorption, thus quite comfortable to wear all the time. Rubber sole dress shoes are undeniably thicker than other soles, thus more durable.
Things to Consider While Selecting a Soles for Your Dress Shoes or Boots
1. Comfort Factor
Being that leather sole is a firmer material that isn't regularly considered being delicate and adaptable, rubber soles thus become a more agreeable choice of the two. That being said, while leather is mixed with cork to create a harder sole, one must never forget that leather being just skin has the advantage of taking the shape of your foot.
No wonder leather sole vs rubber sole is a better fit. And if the leather cork mixture is correct, then it forms a great cushion and grip too. The only drawback is that you cannot do any athletic activity with leather soles, these are just good for office wear.
So is leather sole better than rubber or vice versa? Though the leather requires a little workaround, rubber on the other hand gives you great comfort right from the first wear. It needs little or no break-in time.
Though when we say leather vs rubber sole, the latter is more flexible but it gives you enough sturdy flexibility to walk or run around with ease. But the only drawback is that rubber soles cannot mold around your feet, so after long hours of wearing, it can drain your feet out.
2. Durability
Is leather sole better than rubber in durability? or Vice versa? Well, each has its pros and cons.
The more layers in the leather sole, the better it is. For instance, a triple leather sole can outlast the rubber sole. While single-layer leather soles should be kept for special occasions, the triple or more layered ones are the work-wear kind. On the other hand, leather soles are eco-friendly as they vanish with time if discarded in the environment.
On the other hand, the rubber soles are practically almost indestructible, so rather not so eco-friendly, unless made of pure latex only. These are made and formulated with various chemical combinations to last through thick and thin, under all weather conditions. But then cracks often erupt in the rubber soles, once their moisture drops off. And once it cracks, your shoe meets a dead end.
Thus, leather and rubber sole has its own advantage. So having both kinds of soles is rather essential for any man's closet.
3. Sole Grip
Rubber soles will generally have an astounding grip, while leather soles don't. This makes it hard to wear leather sole shoes outdoors beyond the workwear scenario. New leather soles are quite slippery, but their grip improves when scratched with time. On the other hand, rubber soles have a great grip from day one. Rather, at times to improve leather soles' grip, many a time makers/cobblers attach rubber studs to leather soles.
4. Style & Looks
Leather Sole for Business and Premium Look
When it comes to premium workwear shoes or business casual shoes for daily work, then in leather vs rubber sole - the leather sole always wins the race. These are stylish to dorn and comfortable to wear the whole day long.
For instance the Winkler Leather Sole Oxford Style Dress Shoes not only have just another leather sole, but it is also rather premium leather handcrafted with love. Moreover, the sole has an additional leather shoe horn, arch support and heel support, to give you that day-long comfort at work.
Rubber Sole for Casual Wear and Comfortable Looks
On the other hand when it comes to casual wear, then in the rubber vs leather sole dress or casual shoes debate, the former wins due to its unending comfort that starts right from the day you buy it. A rubber sole also helps you slip into or out of one casual occasion to another.
For instance, Rush Leather Upper & Rubber Sole Chukka Boots, which come in more than 10 colors, making them a perfect party as well as casual wear, say to a friend's outdoor party in the hills. This means the premium rubber will give you the required comfort and grip to burn the dance floor as well as do some hiking in the hills or dance around the bonfire.
Conclusion
We have tried to give you both sides of the coin of leather sole vs rubber sole. So if you ask us, rubber or leather sole dress shoes and casual boots - each has its own pros and cons. So the best is to own both kinds. Or if you are a traditional workaholic then a leather sole will work for you.
If you are a contemporary individual with a practical mind, then the rubber sole will be ideal for you. And if you are still confused then pick up a hybrid or a leather sole with rubber studded grips. These new ones have the ideal mix of both worlds in styles as well as comfort. The final choice is yours!