How to Clean, Care & Maintain Your Leather Shoes [8 Quick & Easy DIY Ways]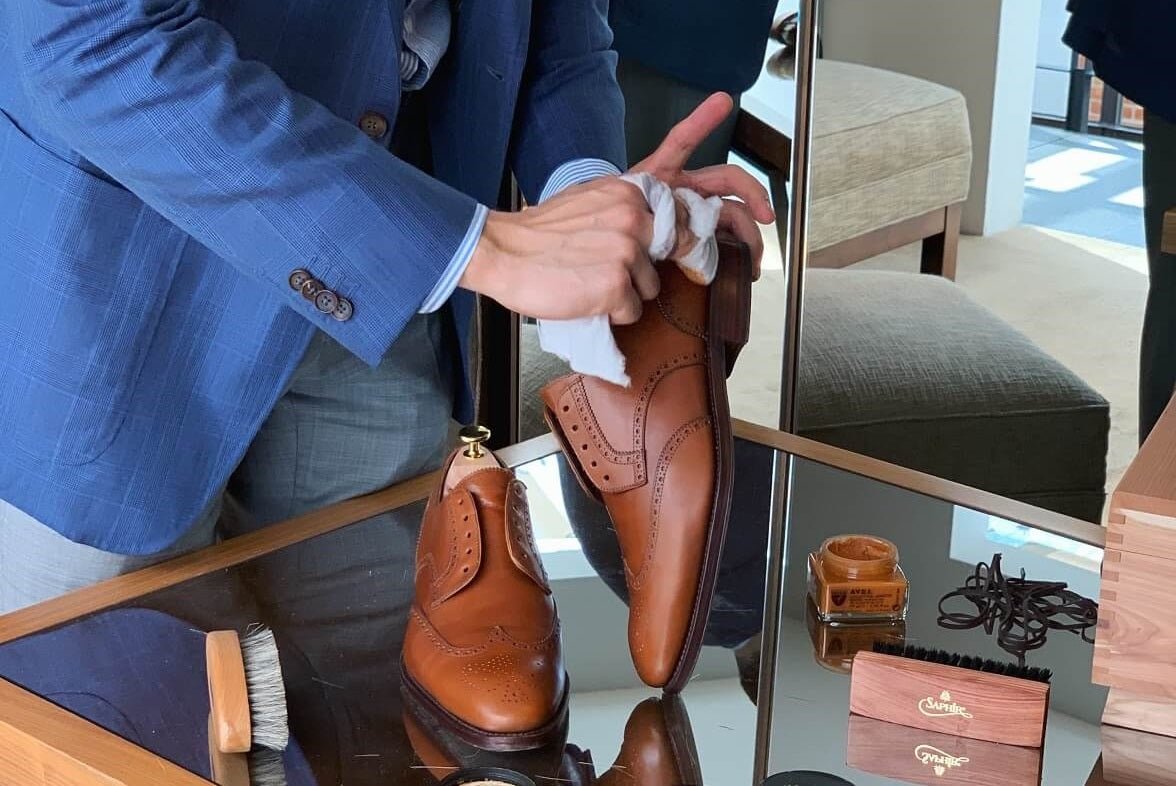 Sophistication, style, and flamboyance are the second names of leather shoes that find a place in every man's closet. Leather shoes not just lend instant transformation to the personality of the man, but also add that confidence to your feet. No wonder, none of you will want your favorite leather shoes to wither away, in absence of leather shoes care, will you?
So are you aware of the major yet basic tips to preserve leather shoes? How you can clean, care & maintain your leather shoes - is no rocket science. Thus, we are sharing simple yet strong tips to help you in the task of how to maintain leather shoes. To ensure that your leather shoes stay in the best condition for quite a long time, utilize these leather shoe care tips and you will never face regret.
8 Easy Ways to Properly Care, Maintain & Protect Your Leather Shoes
Proper shoe care is a great thing that helps you in maintaining its long life. But for this you don't need to learn a lot, it involves just a few correct tips which have mentioned below. So let's go ahead…
1. Clean & Polish Well Before You Store
Even before it comes to storing or doing any kind of leather treatment for shoes, the most important task is to clean the shoes. Remove dirt, remove stains (you can use mild soap or vinegar water for the same), remove any untoward object attached to the shoe, etc. And that too with a good quality leather cleaning agent and using a soft suitable brush or cloth.
Post that regularly polish your shoes not just to bring out the leather's natural shine, but the polish also acts as a protective coat on shoe surfaces to prevent basic moisture or microbes from entering it.
2. Box Your Shoes
Some people have a habit of casing the shoes in a paper box or a cloth bag. Humidity absorbed by the paper/cloth will harm your leather shoes. So either keep them in a semi-open shoe rack or in a wooden or cardboard box of good quality. It helps you preserve and maintain leather shoes for a longer time.
Moreover, ventilation will keep the leather shoes odor-free. And this box can be your shoes' safe travel partner too!
3. What if Leather Shoes Get Wet?
Firstly, ensure that you don't use leather shoes in rainy weather or in wet terrain. But, if these get wet, don't panic. Just wrap them in loads of newspaper or some thick tissue paper to let them dry well.
Don't blow dry or use a heater to dry the same: after all, leather is rugged skin; the heat will burn it off or crack the leather, thereby harming the shoes. Putting galoshes on over your shoes is the best way to care for leather shoes if you live in a rainy climate.
4. Keep Leather Shoes Humidity-Free, Away from Direct Sunlight
Humidity is the worst enemy of leather, as it not only corrodes the shoes but also gets the shoes to hide various kinds of microbes like bacteria and fungi. These microbes will in turn harm your feet. So as far as possible before you store your shoes, use the above tip to ensure that the shoes are dry enough. You can also put them in indirect sunlight to dry if need be, but direct sunlight will always harm the shoes, the way a heater does.
5. Leather Shoes Need Conditioning
After every 25-wears, ensure that you use a good conditioner on leather shoes. It helps the leather stay moist enough to not crack away, because just like our skin leather also dries out sooner than we can imagine. So how to perform conditioning leather treatment for shoes?
All you need to do is clean away the shoe first. Then run a good quality conditioner gently across the whole exterior using circular movements. Any excess conditioner must be removed once the whole shoe has been conditioned. Beeswax-based polish is not just an ideal shoe polish but also a good shoe conditioner.
6. Avoid Leather Shoes Near Sharp Objects
Leather is just a tanned, thickened skin. So the way you keep your skin away from sharp objects, tree your shoe in the same way, as there are high chances of the piercing damaging your shoes forever. Yes, even the slightest hole in leather cannot be filled up, to make it look again like the original version.
7. Use a Shoe Tree When the Shoe is Not in Use
This is done to keep the shoes in shape because leather sheds shape when kept idle even for a few days. A shoe tree will additionally draw out a portion of the dampness, if any, and help your shoe keep its shape simultaneously. When selecting a shoe tree, try to choose the incomplete cedar supplements, as plastic won't assimilate the moisture, if any.
8. Avoid Wearing the Same Pair Everyday
The way you need a breather from monotony, the same way your shoes also need time to time break, to self-repair themselves after you clean them, condition them, and polish them. To well maintain leather shoes, ventilation is needed for them to avoid stinking of the leather shoes.
Always remove the laces whether you clean/polish the leather shoes or do some kind of leather treatment for shoes. It will help the treatment reach every corner. Additionally, if despite doing all the above tasks, your shoes smell bad, then just keep some black tea bags, or a piece of wood charcoal or for that matter in a tissue paper roll some combination of baking soda and vinegar and keep it inside the shoe to absorb any kind of odor.
The modern era is such that if you don't have time to overall care for leather shoes on your own, then you can even hire professional services that are widely available online. But the trick is to try such services by giving them your oldest pair to preserve. We hope these concluding tips on 'how to clean, care & maintain leather shoes' will add shine not just to your leather shoes but also to your personality thereon. For more tips to preserve leather shoes, you can always write to us.