Oxford vs Derby Shoes Comparison: What's the Major Differences?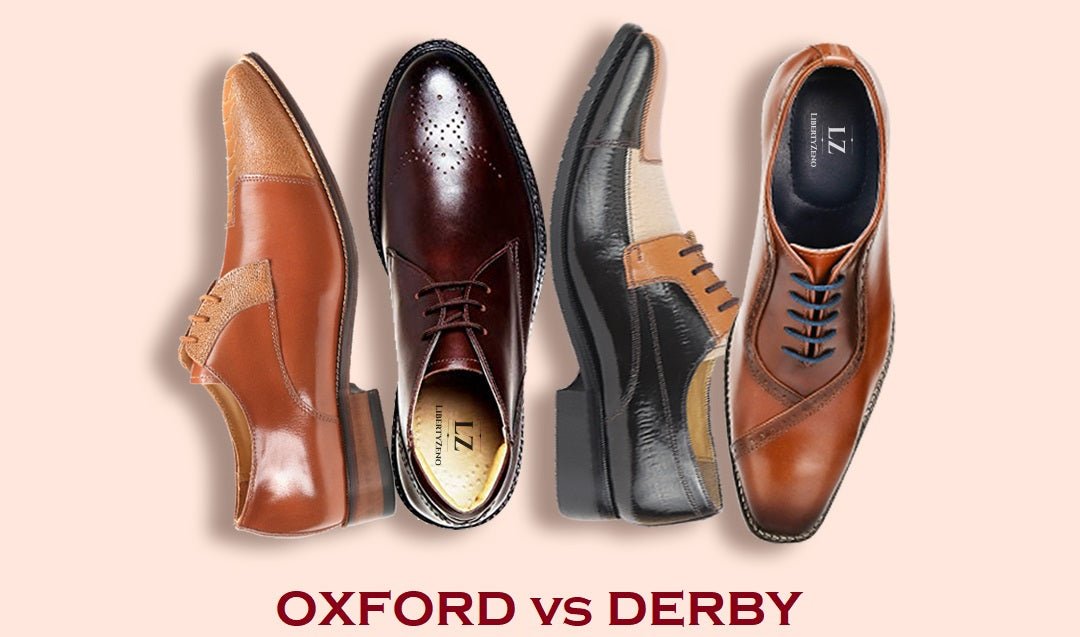 Dress shoes are something that comes in various types, styles, and designs, making a man look polished and stylish comfortably and effortlessly. In this article, we are covering two most popular types of men's dress shoes in fashion industry - Oxford and Derby shoes and how they are different from each other.
In addition, we will make a few suggestions to help you choose the right pair between these two depending on the occasion and look simply perfect. Before diving into the discussion on Oxford vs Derby shoes, let's first talk about what these two types of shoes actually are.
What Are Oxford Shoes?
If you want to look elegant and classic in a wedding, corporate event, or your first day in the office, Oxford shoes are the right choice for you. They uplift your ensemble and spruce up the overall appearance effortlessly.
Also Read: How to Wear Oxford Shoes
The most main characteristics of Oxford shoes that sets them apart from the rest is their closed lacing design where the shoelace eyelets are perforated and attached under the vamp. Gone are the days when Oxford shoes used to be made of genuine leather only and look like plain formal shoes.
Over time, Oxford-style shoes have evolved and now you get a range of styles matched with formal or casual wear. Nowadays they are also made of calf leather, faux leather, suede, and canvas. These shoes are mostly available in black, brown, tan, etc. colors, with a plain or patterned design.
Characteristics of Oxford Shoes
Closed Lacing
Narrow Toe
Low Heels
Three Part Panelled Structure
Stitched Leather Sole
Types of Oxford Shoes
Wholecut Oxford
Plain Toe Oxford
Wing Tip Oxford
Austerity Brogue Oxford
So, if you want to add a touch of elegance, style, and sophistication to your look, Oxford style shoes are the perfect option.
What Are Derby Shoes?
Derby shoes, also known as Gibson, Blucher, etc. and are considered classic and comfortable men's shoes of all time. These are perfectly fitted for any formal event and can easily be paired up with a suit.
Moreover, they have a sleek and simple appearance. Therefore you can partner a pair of Derby shoes with your casual or smart casual outfits too. Whereas Brown or Black Leather Derby Shoes seems more traditional and classy. Suede, brogue, and boots often appear more casual.
Unlike Oxford style dress shoes, Derby has an open lacing design which means quarters are punctured on the vamp, therefore there is no seam between front and tongue of the shoes. They are less confining than any other formal shoes, giving maximum freedom of movement.
Characteristics of Derby Shoes
Open Lacing
Broad or Round Toe
Three Part Panelled Structure
Stitched Leather or Rubber Sole
Exposed Ankle
Types of Derby Shoes
Plain Derby
Cap Toe Derby
Wingtip Derby
White Buck
Wholecut Blucher
Apron Toe / Moc Toe Derby
So, if you are looking for a shoe option that goes well with casual wear and relaxed formal wear, Derby is the right choice for you. Pick the right pair for office, a lunch date or even running a short expedition around a town.
Key Difference Between Oxford and Derby Shoes
Both these dress shoes are great options for men when it comes to giving comfort while walking and adding style to the appearance. Still, there are some differences between Oxford and Derby Shoe that make contrasting to each other. Let's talk about 5 major contrast between Oxford and Derby shoes.
1. Lacing Styles
Though both Oxford shoes and Derby shoes are lace up formal shoes, the lacing style in these two make them different from each other. Oxfords have a closed lacing style where the quarters are stitched on top of the vamp. On the other hand, Derby has an open lacing style where the quarters are sewn under the vamp.
2. Fitting Difference
Derby shoes are suitable for people having wide feet. They give more foot space and complete freedom of movement. On the other hand, Oxfords have form fitting instep, perfectly suitable for people with narrow feet.
3. Formal or Casual
Oxford shoes have a more formal and classy look than Derby shoes. With closed lacing and shiny leather finish, Oxfords are considered as the best formal shoes of all time. On the other hand, A Derby shoe is good to go with formal attire. But also they are a perfect fit for casual and smart casual occasions.
4. History and Evolvement
The popularity of Oxford shoes rose in 1800 for being worn in the University of Oxford. Since then the popularity grew across England and then around the globe. Since the beginning they were used to be worn as formal shoes and that same essence is still alive till now.
On the other hand, the popularity of Derby rose in 1850 across England. Earlier they were used as hunter shoes because of their comfortable fit, best suited for people with wide feet. Eventually these started gaining popularity as indoor shoes and office wear as well.
5. Shoe Eyelets
In a Derby shoe, the shoelace eyelets are joined to the top of the vamp, which results in the eyelets being clearly visible. On the other hand, in Oxford shoes, the eyelets are joined under the vamp, where the eyelets are not at all visible.
Oxford or Derby: Which One Will Be the Perfect
You have gone through the entire discussion on Oxford vs Derby, how they are different from each other. Has it made you a little confused to choose the right pair for the right occasion? Here are some tips on how to style yourself with Oxfords and Derby shoes. This will help you make the right decision easily.
After having a discussion on Oxford vs Derby, now let's give a thought on which option is right for you on what occasions.
Which Shoes to Wear for Formal Occasions
If you want to select Derby shoes for a formal occasion, opt for sleek design, slim shape and single leather sole that can perfectly match your suited look. Especially black Derby in smooth leather style works the best.
Black Oxford shoes can never go wrong with a suited look in a formal event. Brown Oxfords are less formal but still go well with formal outfits. Don't forget to match your belt color with the shoe color. if you are choosing brown Oxford, the darker your suit the darker should be the brown shade as well.
Which Shoes to Wear for Casual Occasions
Chunky styled Derby shoes with thick sole in light color can go well with jeans or chinos. The pair of suede Derby is also good for a casual look. Such Derby shoes can add stylish and polished touch to your overall casual look and make you stand out.
Chinos or jeans also go well with Oxford shoes in unusual colors like blue, tan, etc. Complete the smart casual look by wearing something comfortable yet stylish on top. Pay attention to the color of your pants and the shoes.
Conclusion
Hope, the above discussion has helped you decide if you are more of a Derby or Oxford man. You can also appreciate what each type of shoes offers and find yourself with both from time to time. Just remember, each style changes depending on the kind of leather utilized, the color and the ornamentation. If you think making the right choice is not that easy, we are here to help you. At LibertyZeno, you get a wide range of best quality Oxford and Derby style shoes to choose from. Start shopping!
FAQs
1. Oxford or Derby, which one is the best for casual look?
Derby shoes are considered less formal than Oxford shoes. However, both of these can be worn with formal and casual attire. You just need to
pick the right color of the shoes
and match them with the right outfit.
2. Are Derby shoes better than Oxfords for formal look?
To have a perfect polished sophisticated formal look, without having a second thought, pick black or brown Oxford shoes. Derby also looks good with formal attires but they are not as formal in style as Oxford shoes.
3. Can Oxford and Derby shoes be considered as good investment?
There is no doubt that both Oxford and Derby shoes are excellent investments. They are classy, timeless and perfect choices for various outfits, ranging from suits, tuxedo, jeans, chinos and more. Be it fully formal, semi-formal, smart casual or fully casual, just pick the right pair of Derby or Oxford shoes, and you are good to go.