Sizzling Style Secrets: Mastering Summer Wedding Outfits for Men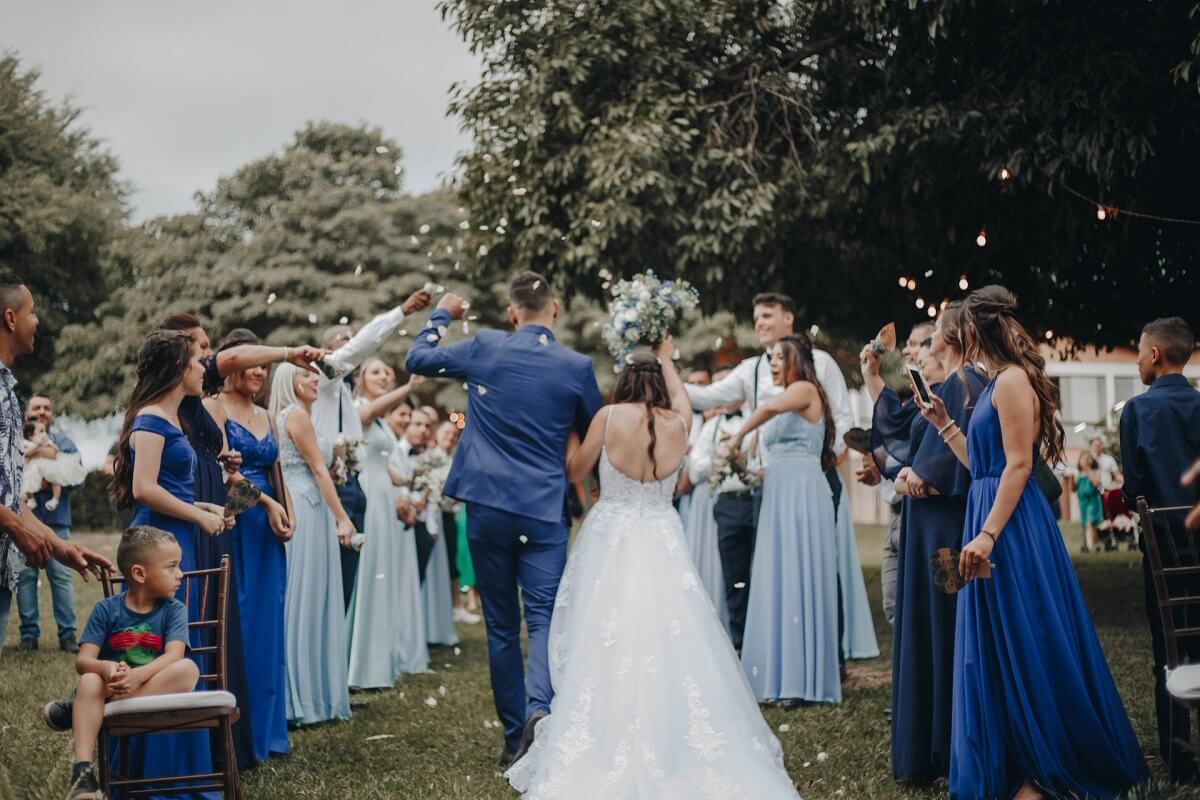 With wedding season in full swing, gentlemen, it's time to unlock the gateway to sartorial splendor and unveil the secrets of men's summer wedding style. Picture yourself in a realm of refined elegance, where every thread and accessory contributes to your extraordinary presence.
In this captivating style guide, we shall traverse the pathways of fashion, merging sophistication with a dash of flair, as we curate the perfect ensemble for your next summer soirée. Together, we shall unravel the code of what to wear to a summer wedding, transforming you into the epitome of debonair charm.
Colors that Make a Statement in Summer Wedding
When it comes to summer wedding outfits men opt for, going for lighter and more vibrant colors is a surefire way to exude effortless charm. Embrace pastel hues for men's summer wedding style, as they are not only stylish but also perfectly complement the summer season. Imagine yourself in a light blue suit, paired with crisp white pants. These men's summer wedding looks are a classic choice that exudes sophistication while keeping you cool and comfortable.
For a bolder statement, consider a dusty pink suit paired with off-white trousers. This color combination screams summer romance and is bound to make heads turn. Alternatively, a light gray suit with mint green pants creates a refreshing and contemporary look.
Perfecting the Details with Colors? A summer wedding guest dress men and women would love to replicate - choose a light-colored, breathable cotton or linen shirt for effortless style. Add a matching pocket square for a touch of elegance. Opt for brown or tan leather loafers or dress shoes for versatile sophistication. Avoid heavy black shoes, as they may be too formal. Accessorize with a slim or bow tie in complementing colors. Experiment with playful patterns like polka dots or florals for personality. Don't forget a sleek wristwatch and stylish sunglasses for added suave.
Men's Outfits for Casual Summer Wedding
Crafting the perfect ensemble for a casual summer wedding requires a keen understanding of the event's setting and structure. Whether it's an outdoor extravaganza, a beachside celebration, or even a virtual affair, tailoring your look accordingly is key. So, let's embark on a sartorial journey, shall we?
For a laid-back yet stylish vibe, consider pairing relaxed trousers with crisp white sneakers and a linen sport coat. These men's summer wedding looks to strike the perfect balance between easygoing and refined, ensuring you're dressed to impress without appearing overdressed. If you prefer a more traditional footwear option, opt for crisp loafers or brogues to elevate your casual summer wedding outfit.
For less formal ceremonies, dare to don nautical striped shirts paired with elevated deck shoes. Complete the effortless look with a complementary belt, and you'll exude a refined yet carefree elegance.
Beach Wedding Attire for Men in Summer
When it comes to beach weddings, summer wedding outfits men must look for comfort and style. Thus, go for lightweight fabrics like linen or cotton to stay cool under the sun. Choose a linen suit in a light shade, such as sandy beige or sky blue, for a relaxed yet refined look. If a full suit feels too formal, pair a linen blazer with tailored trousers. Go for breathable, button-down shirts in soft pastel hues or vibrant tropical prints. Roll up your sleeves for a laid-back vibe.
Ditch heavy dress shoes in favor of sophisticated loafers or stylish boat shoes in light colors like tan or beige. Complete your men's summer wedding looks with a stylish straw hat and sunglasses for that debonair touch. Embrace the relaxed ambiance, look effortlessly chic, and let the ocean breeze carry your style to new heights.
The Cocktail Attire for Those Perfect Men's Summer Wedding Looks
To unlock the secrets of impeccable cocktail attire for a summer wedding, picture yourself in a lightweight linen suit, tailored to perfection in soft shades like sandy beige or sky blue. This is embracing both formality and a relaxed vibe. If a full suit feels too formal, opt for a crisp linen blazer paired with tailored trousers. Choose a breathable fabric like cotton or linen-cotton for your shirt, in classic white or playful pastel shades. Complete this men's summer wedding style with matching loafers, boat shoes, or suede brogues. Add a silk pocket square, a sleek watch, and perhaps a bow tie.
Key Fabric and Shoe Materials For Men's Summer Wedding Style
For the perfect summer wedding outfits men must turn to lightweight and breathable fabrics. Embrace the crispness of linen, renowned for its ability to keep you cool in the sweltering heat while adding a touch of sophistication to your look. Cotton and seersucker are also excellent choices, providing comfort without compromising on style.
When it comes to shoes, opt for materials that complement the laid-back elegance of summer weddings. Suede loafers or leather sandals will keep your feet happy and stylish, allowing you to dance the night away without any discomfort. Remember, the right fabric and shoe materials are the key to mastering summer wedding fashion with finesse.
Pro Style Tips for Men's Summer Wedding Looks
For a summer wedding guest dress for men will need some extra tips as below…
Embrace the Vibrant Spirit of Summer: Choose light, lively colors such as sandy beige or sky blue to capture the essence of the sunny season.
Tailored Elegance with a Relaxed Touch: Opt for a well-fitted linen suit for a polished yet laid-back look. Alternatively, pair a crisp linen blazer with tailored trousers for a stylish twist.
Playful Shirts for a Personalized Touch: Infuse personality into your outfit with lightweight shirts in playful prints or light colors, keeping you cool and charming.
Elevate Your Look with Stylish Accents: Complete your ensemble with fashionable loafers or suede brogues, and add a dash of sophistication with a pocket square or a tasteful floral boutonniere.
In conclusion, when it comes to summer wedding outfits men must strike the perfect balance between style and comfort. Embrace the lightweight fabrics and vibrant colors that define the season, and opt for well-tailored ensembles that exude sophistication with a relaxed twist. So dress to impress, exude confidence, and let your impeccable men's summer wedding style sense be a testament to your impeccable taste.
FAQ
What should guys wear to a summer wedding?
When attending a summer wedding, men can wear light color shirt and blazer, tab or brown shoes with suitable accessories like a belt, tie, chain, broach, etc.
What shoes men can wear at summer weddings?
Men can consider wearing Oxford and derby style shoes for the formal summer wedding. Loafers and slip-on are the right options for a casual summer wedding.
Tan dress shoes and khaki suits are right for a summer wedding?
Yes, any light color suit like beige, camel, or khaki with tan or brown dress shoes is a great attire option for groomsmen or wedding guests for summer weddings.