Best Way to Wear Loafers: Ultimate Men's Style Guide on How to Style Loafers with Outfits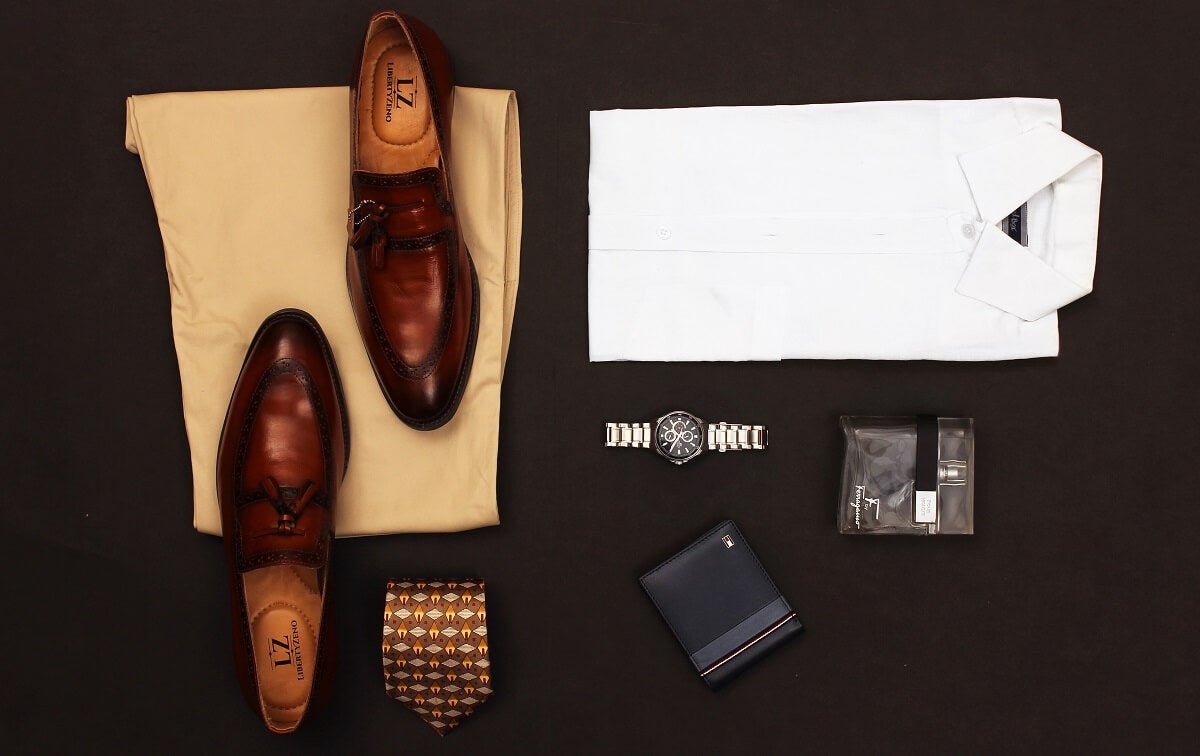 Since it came into being in the 1930's Loafers have beaten the test of time to be the most versatile footwear for men. This staple footwear comes in a range of materials and designs. And due to its versatility to wear with various outfits, due to the ease of slipping into and out of loafers, perhaps this men's footwear is forever here to stay.
But then you will ask us, how to look dapper in loafers considering that it is a versatile wear? Or how to wear loafers in a way that you look extraordinary even in a formal setting or attire?
For your ease we are sharing a complete guide on how to style loafers and the best way to wear loafers as per the outfit.
Popular Type of Loafers
First and foremost let's know the popular type of loafers.
1. Penny Loafers
This design came into being in the 1950s and since then it has been a fashion legend. A classic range of loafers is distinguished by a leather strap across the top of the shoe. And this strap has a diamond-shaped cut. This cutaway slot is just good enough to hold a coin, and not much more in-depth.
2. Tassel Loafers
The real origin of the Tassel Loafer is not actually well known. But the legend has it that a Hungarian-American entertainer claimed a couple of Oxford Shoes with tassels at the end of his shoe laces. Later the Alden Shoe Company was entrusted with making something almost identical and thought of a slip-on design that involved the tassel as an embellishment. In 1950 they sent off the shoe to the markets and the tassel loafer was an instant hit!
3. Hazel Loafers
These loafers are similar in style to the Penny Loafers, with a leather strap across the shoe top. The major difference is that these have no diamond cut on the strap which is attached to the shoe, on either side with metal embellishments.
How To Style Loafers With Different Outfits
Loafers adorn every outfit differently, thus we are sharing how to wear loafers as per the key men's wear.
1. Loafers with Jeans
Loafers with jeans are like a jacket with boots - an ideal companion. But the trick is in the length of the jeans, which should be ankle length and slim fit. Long and baggy jeans are a strict no, no. How to style loafers with jeans, if you are color coordinating? Match the color with the T-shirt or shirt that you wear atop the jeans.
2. Loafers with Chinos
Summer evenings and occasions are ideally suited for the chinos and loafer pairing. Blue, creme and khaki chinos are most frequently the top pick for men. The best way to wear loafers with chinos is along with a shirt or polo shirt, add a belt and wear no socks.
3. Loafers with Pants
Regardless of whether you're wearing a full suit or pants with a shirt and overcoat, loafers can make an amazing footwear choice. These lavish yet laid back shoes are ideal for formal dressing with style. They are particularly great for cocktail events or such informal/semi-formal events, where you need to look dapper.
4. Loafers with Blazer
Both single and double-breasted blazers will function great with loafers, but then team them up with pants, jeans and chinos. We incline toward wearing a fitted T-shirt or shirt with a blazer - this keeps it cool and not over the top. Indeed, pant length (keep it ankle length) is significant as is the color - don't match the pant color with the loafers. Rather can match it with the blazer.
5. Loafers with Shorts
This is our beloved pick to wear loafers because it is a tad preppy style. It's mid-summer, you're at the polo or a roof party and for reasons unknown, you believe it's smart to wear loafers with shorts. In any case, let it all out. We suggest customized shorts simply over the knee (not shorter), a belt and a custom-made, tailored shirt.
How To Wear Loafers As Per The Occasion
Different events have different settings, thus we are sharing the best way to wear loafers each time.
1. For Casual Looks
Suedes and lightweight textured loafers that come in Tassel Loafers as well as Hazel Loafers would look great in casual settings. Avoid leather, but do try out some summery colors - like powder blues, light olive greens, etc.
2. For Formal Looks
The key to carrying loafers in style at a formal event is in picking the right material - leather loafers are best suited. Alternatively, a high-quality velvet loafer would also do the trick as these look rich and luxurious. Avoid the metal embellished ones, go for Penny Loafers or lightly Tasseled ones. You can wear these even with casual suits in stripes or checks.
3. For Semi-Formal Looks
When in a semi-formal setting, opt for classic colors to compliment dress shirts and trousers. If you are one who loves to carry bright colors, then the best way to wear loafers is to pick them in cherry reds, emerald greens or cobalt blue. But those who love dimmer tines can pick navy and white loafers. Also, loafers look great with blazers, knitted sweaters, cardigans too. Throw any of these over the shoulder to add that dashing-dude punch.
Final Tips
Whether you follow our tips on how to wear loafers as per the men's dress or you stick to our ideas on the best way to wear loafers as per the settings, what you must never forget to wear is a CONFIDENT SMILE! A confident smile adds ultra-confidence to your walk and the whole ensemble would make you outshine in any and every setting.