12 Unique Ways to Store and Display Your Shoes Long Term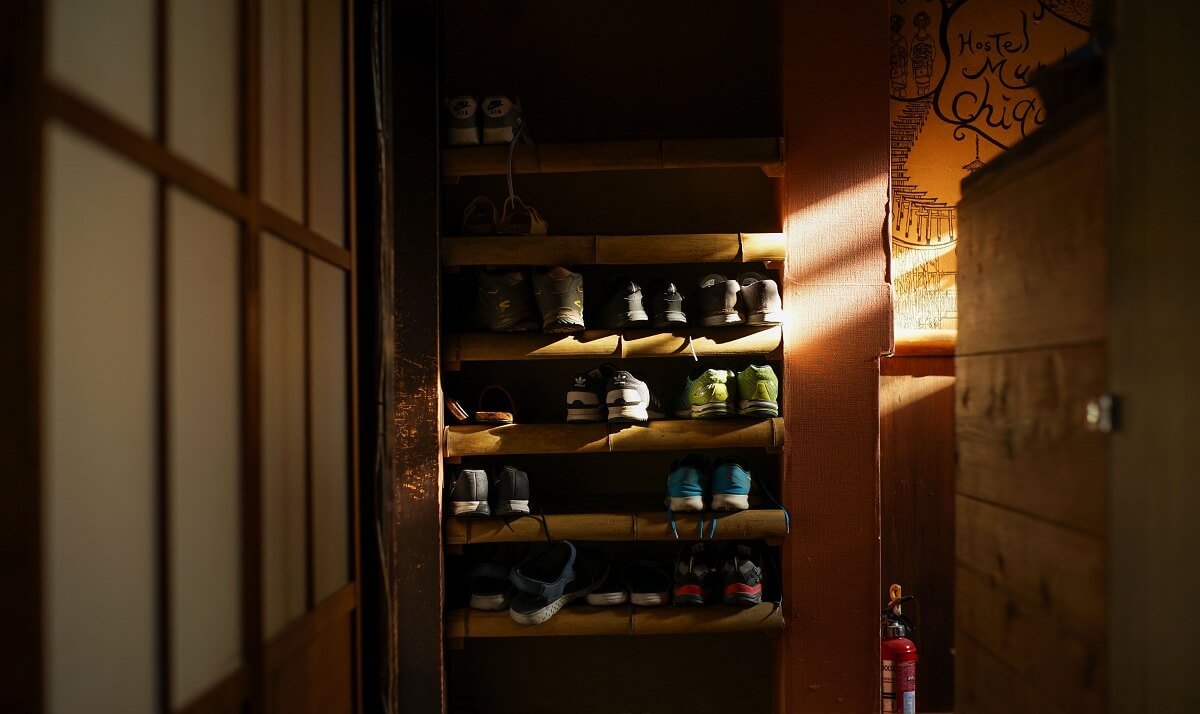 Any storage space that is large enough, has some airflow, and provides shelter from the direct Sun, severe temperatures, and excessive humidity can be used to store shoes. For instance, you may designate a few drawers in your bedside cabinet or racks in your wardrobe or bedroom specifically for storing shoes. Choose wood furniture and think about slightly opening a door or drawer to increase ventilation.
Best and Most Creative Ways to Store the Shoes
So now let's check out some of the best and most creative ways to store shoes and organize them. We are listing just 12 Best Ways to Store Shoes, the rest you can innovate and ideate as per your own creative imagination! Let's get started...
1. DIY Shoe Storage
Rather than going to order a shoe storage space immediately, let's check out some DIY shoe storage tools or hacks that come in very handy, whether at home or while you travel. Now the question arises - How to make DIY shoe storage? Some simple hacks:
If you have the room, use crates, containers, or baskets.
You can create a sandal/shoe hanger if you have some spare wire hangers that you're not using right now.
Convert old clothes and sew them into hanging shoe pockets.
Don't throw away the shoe box that you get when you purchase shoes; repurpose them by covering in some plastic sheet to make them last longer and keep these moisture-free.
2. Sort Shoes into Categories
Before we delve into the best ways to store shoes, sort your shoes into groups before you begin adopting any new shoe storage techniques or plans. Start by classifying your shoes into groups, which is the foremost and best way to organize shoes:
Footwear you consistently wear.
Shoes you don't wear as often.
You should keep your less-frequently used shoes "up high and far away," think party-wear or winter boots.
Now it's time to further classify the remaining pairs of everyday shoes, such as by comparable style, activity, etc.
3. Shoe Display Storage
If you have a penchant for a large number of amazingly colored shoes, then the transparent shoe racks or shoe boxes that are stacked up on each other can be a great way to not just store the shoes but also catch some eyeballs via these shoe eye candies! It is the best way to store sneakers.
After all, who doesn't like some innovative color pops in an otherwise plain-jane men's room?
4. Under-the-Bed Shoe Storage
One excellent strategy to conserve space is to store your shoes beneath the bed. To prevent any damage, you must ensure they are neatly arranged, securely closed, and able to fit beneath the bed. For that, measure the height and select suitable containers to place the shoes in and store them.
Also Read: How to Pack Shoes for Moving and Travel
5. Nook & Cranny Shoe Storage
Nooks and corners are the best shoe storage ideas, all the more space-saving ones too. Here are a few suggestions: near the front entry in a straight rack behind the front door; at the backdoor through a bench seat with storage below, above, and across the top; etc.
A storage space for built-in cabinetry, such as cabinets, shelves, or drawers, can be found under the stairs, in an alcove, or in a corner. But be sure that all of these areas are dry and have sufficient air circulation. To prevent mildew from developing, shoes kept in nooks and crannies need to be exposed to some sunlight frequently.
6. Cabinet Shoe Storage
A rack or cupboard that you use frequently and that allows air to flow around your shoes while preventing dust from gathering on sensitive fabrics - is the best way to store shoes in the closet.
The best way to organize shoes is to stack them into different sorts of footwear, such as boots, sandals, and sneakers, by using shoe shelves with open fronts. Ensure these spaces are off the clothes section. You can get one section done especially at the bottom of the cupboard - as the best way to store shoes in a small closet.
7. Cubby Shoe Storage
There is plenty of room for shoes in the bookshelf-style shoe cubby system. It's rather among the creative ways to store shoes and these may be displayed as the focal point of a walk-in closet or pushed up against the wall. Choose a white or dark espresso finish, then stuff it with your favorite slippers, flip-flops, and loafers.
8. Shoe Rack & Hallway Bench Combo

Lightweight and flexible to meet your requirements, a wooden shoe rack and bench combination are among the most sought after and best ways to store shoes. Depending on the amount of storage and height you want, choose between a 4-tier or 6-tier version. It is also the best way to store sneakers.

Also Read: How to Remove Odor From Shoes
9. Spinning Shoe Tree

Your closet will be more organized and your shoes will always be nearby if you use a rotating shoe tree. Up to 36 pairs of shoes may be stored on a typical floor-to-ceiling shoe tree. A closet's 12" cross-section is somewhat larger than a rotating shoe rack's footprint and is among the best ways to store shoes long term, like the best way to store boots of the winter season.

10. Hanging Shoe Pockets

An over-the-door shoe organizer with many plastic or canvas compartments is an upgrade over a shoe rack if you need something simple that can hold a lot of shoes. The vertical arrangement makes excellent use of both the room's and the floor's available space.

Also Read: How Long Do Shoes Last?
11. Crown Molding Hanging Storage
Crown molding often hangs on the wall towards the ceiling, but if you install it in your closet instead, it may be a perfect spot to hang heels. Crown molding, which comes in a variety of forms and sizes, is often installed up against the ceiling. On the inside walls of your closet, hang molding strips. Put your heels on the molding with the toes pointing toward the ground.
12. Store in Ottoman
Shoes fit well in a storage ottoman when you have no space in the room, closet, or elsewhere to store shoes! Some ottomans even include drawers and divisions for holding your shoes and grouping pairs.
Final Words
When you stack your shoes up and down, don't waste room by placing them side by side. You can assure that you can conserve the most closet space possible with this style and organization sheet. Do tell us, if you innovate anymore!
FAQs
What are the best ways to store shoes for a long time?
Shoe boxes are the best alternative always to store your favorite pairs. They not only keep the shoes off dust but direct sunlight or room heat or cold as well, as moisture. All you need to do is clean the shoes properly, dry them out, and store with shoe trees to retain their shape, before placing them in shoe boxes. Don't forget to insert shoe trees when the storage time is long - it is also the best way to store boots to retain their design and wrinkle-free texture.
What are the best space saving ways to store shoes?
Vertical storage is your greatest buddy if you have a tiny area. Utilize the space beneath the bed. An upright shoe rack, hanging shoe pockets, etc. won't take up much floor space while storing your shoes. Blow the dust bunnies away and inspect your shoe collection frequently.
How do you keep shoes fresh in storage?
You can use blotting paper or tea bags inside the totally dry shoes so that if any moisture seeps in, these will absorb it away. Try to replace these adsorbents from time to time, as the best way to store shoes long term, so that these don't catch mildew, etc.
What are some tips for choosing shoe storage?
Think about how many pairs of shoes you possess.
Consider the available space before choosing a broad or a narrow style. Shoe racks that are installed on walls free up floor space.
Always choose a high-quality, durable shoe rack, shoe pocket, shoe box, etc if you are buying a new one.
What type of shoe storage can be called the right one for anyone?
It all depends on the kinds of shoes you have, and the care and space they would need. It also depends on the number of shoes and the space available at home. So choose wisely, don't buy or organize something because it looks great at your friends' home. Select something that is practical and long-term and the best way to organize shoes for you.