How to Clean & Maintain Shoes in Daily Life: The Beginner's Guide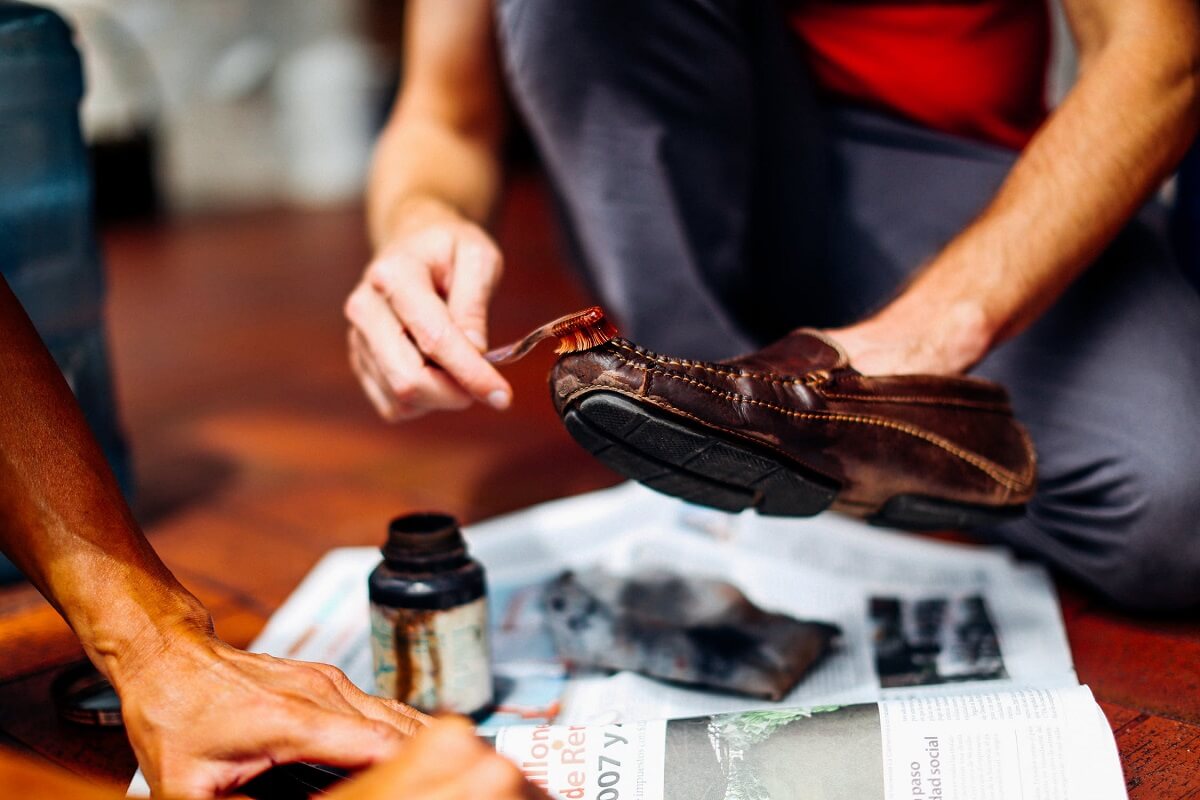 This time rather than talking about how to style your wardrobe around your shoes, let's talk about how to clean your shoes because in any case, shoe hygiene means foot hygiene and a healthy body. But the task of shoe cleaning is easier said than done because there are as many varieties and colors of shoes as there might be ideas in the brain!
Table of Contents
So let's start with some essential shoe types and find out how to clean shoes
The foremost and common step: Wipe off the shoe surface with a clean cloth or a moderately soft brush. 
The shoe interior can always be cleaned with an alcohol-based cleaner with a moderately soft brush application unless the shoe is totally washable. 
Post that, the shoe cleanliness routine depends on the shoe types as under:
1. How to Clean Leather Shoes?
Easy to clean and maintain. Just do a wipe with a moist cloth, leave it to dry, and use the suitable wax polish to maintain the shine. But what if the shoe has some stubborn stains? No, do not try stain removers normally kept at home go to a good shoe shop, ask the manager to help you select the best stain remover to apply the same per instructions on the label. Let it dry and polish well.
Also Read: How To Properly Maintain Leather Shoes
2. How To Clean Suede Shoes?
What's common between Suede shoes and a Fountain pen? Both - as delicate as classy. A moist cloth or a thin brush of hair and copper bristles mix or for that matter a specialized Suede Leather Eraser works best on Suede Leather dress shoes depending on the kind of dirt attached to it. Rub off the dirt in the direction of the suede hair.
But if the stains are too strong then we recommend a non-aggressive stain remover mixed with an equal amount of water and applied with a brush as mentioned above. Gently do the process. Leave the clean shoes to dry and can later apply Suede Renovator spray or even Suede Leather wax to get back that original look! Suede-friendly silicone sprays once a year will also enhance the life of your Suede Shoes.  
Next in our How to clean your shoe task, we come to those varieties of shoes that are generally found in every man's closet! 
3. How to Clean Derby Shoes?
Whether the Derby shoes are made of leather or Suede, the above basic guide should do the trick for you. But since these shoes are really worn for a longer duration due to their sheer comfort, what's needed beyond cleanliness here is effective odor neutralization; active freshness through the day, and moisture management. And for this, you should pick up a good Derby Shoe Deodoriser that is skin-friendly.
Also Read: Getting Creases Out of Leather Shoes
4. How to Clean Chukka Boots?
Chukka Boots unless worn to semi-formal less rugged locations, always demand a good cleaning, especially if they are made in Suede. And then you can follow the steps in section B given at the top of this article.
But if they are set in fake leather or PVC kind of material, then the exteriors will require a soapy regular cleaning; then alcohol-based spray cleaning at the insides to remove the sweat odor post drying it will need some wax shine and at fag end you will need to place shoe trees inside your Chukka Boots between wearings so that they retain their shape till they last. The shoe trees will also help them breathe and stay off microbes.
5. How to Clean White Shoes?
We have already shared the tips above if the white shoes are made of Suede. But for other materials like polypropylene or canvas or some other lighter version, the shoes can also be bleached in adequate proportions with water.
White shoes are usually a delicate entity, and even the slightest mark/scratch will reflect on them, so ensure you use a soft brush suitable to the material. And this brush should actually be bought right from the shoe shop, if available when you buy your shoes.
6. How to Clean Canvas Shoes?
These are one of the easiest shoes to maintain. Let alone, clean them with soapy water and brush, these can even be machine washed with mild soap/ detergent that has a color fixing agent. Post drying you can always spray them with a water-proofing protector spray to last longer in rugged and wet terrains. 
7. How to Clean Running Shoes?
One kind of shoes that are most comfy yet tough to maintain as they need daily maintenance owing to the rough stress and environs they face. So follow the easy steps below:
Wipe away the dirt with a soft brush or old toothbrush or for that matter specific shoe-wash brush if you have.
Remove the laces and insoles, and either hand wash them all or machine wash with a delicate soap/detergent.
Rinse with a warm washcloth and check for any remaining dirt.
And finally, airdry at room temperature. never in the Sun as it warps the shoe exterior and even the sole in a few varieties. 
8. How to Clean Uggs?
Uggs are the most delicate yet sturdy shoes that every man and woman of the cold terrains have in their wardrobe. Thus, we always recommend that when you buy them, or even later, go buy the suitable Ugg Brush and Ugg Cleaner.
Depending on the kind of dirt your Ugg Shoes have accumulated, you can either spray the Ugg with a cleaner or wipe the same using a brush. We have already shared in Section A and B above, how to clean the exteriors depending on the leather type.
But some more tips on how to clean inside of shoes: For instance, if your Uggs got wet, then lots of paper towels will be needed to dry them post cleaning the interiors with a brush and suitable cleaner. Always ensure them dry in indirect sunlight, to ensure consistent warm heat to kill microbes. 
9. How to Clean Shoelaces?
This is the simplest task as shoelaces are mostly thread-based and can be easily machine or hand washed with gentle detergent and water; dried in the sun and used. 
George Bernard Shaw once said: "Better keep yourself clean and bright; you are the window through which you must see the world."
And when it comes to shoes, it is always said that your shoes speak about your personality. So why not put our best foot - aka best-cleaned shoe forward - when it comes to maintaining our shoes? Cheers!