Wearing Brown Shoes with Black Pants: Rundown a Men's Outfit Ideas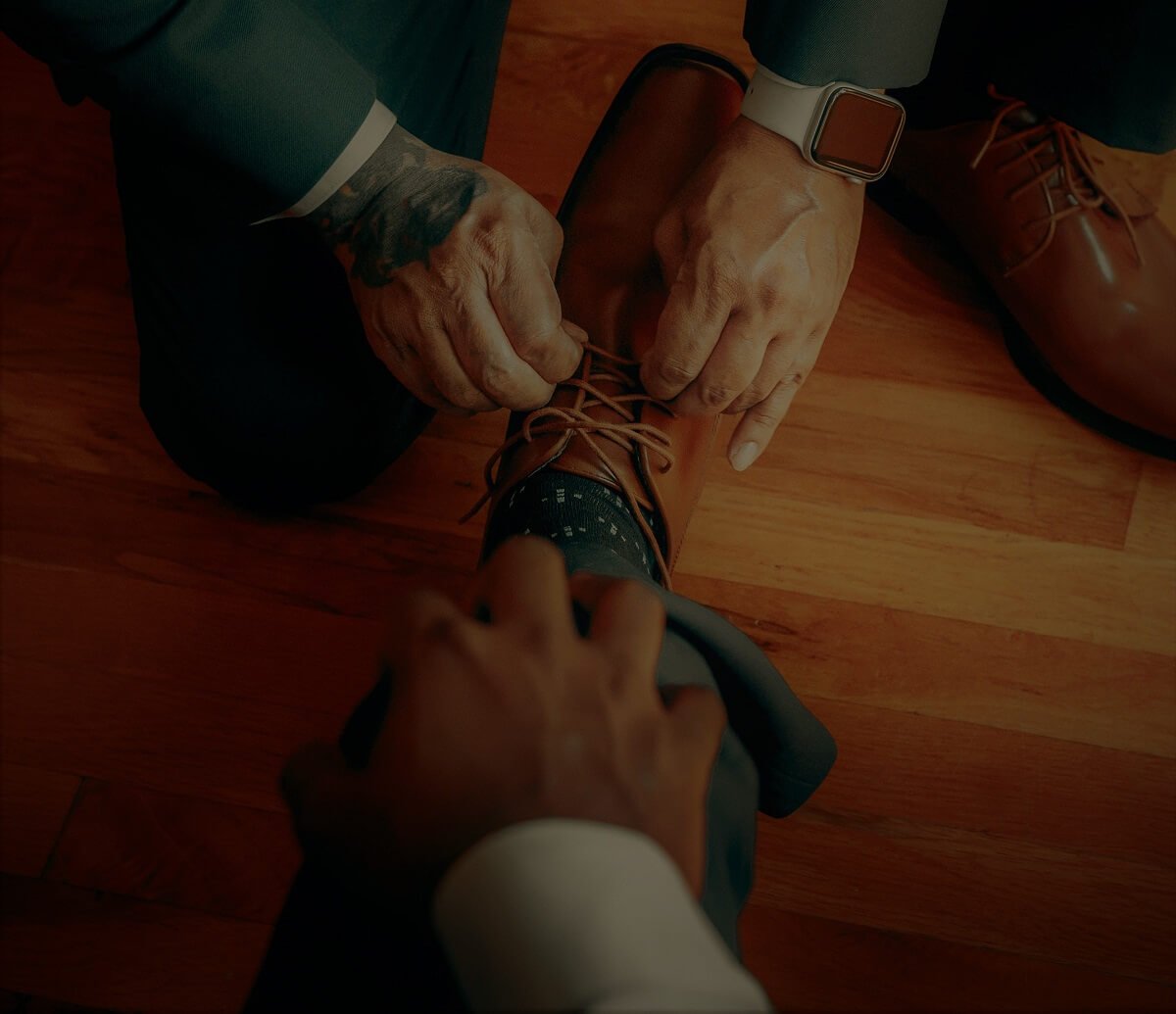 With a plethora of shades of the rainbow, men always keep asking our experts one common question: Can I wear brown shoes with black pants? Yes, of course, why not?! Rather, brown dress shoes with black pants is a very stylish proposition! And it never goes out of fashion.
So whether it is a planned event or a sudden call for a casual/semi-formal gathering this outfit look whether in jeans, formal pants, chinos or more, will always keep you on top of the tops. All you need to do is be careful about - black pants, brown shoes, what color shirt; what kind of accessories to go with and what time of the day or occasion should you try out brown shoes with black pants attire.
Thumb Rules of Matching Brown Shoes and Black Pants
Men often tend to go overboard while wearing brown shoes with black pants, which in itself is wholesome attire. So, let's check out some finer details one by one.
1. Keep it Casual as per Occasions
How formal your men's outfit might be, brown shoes are intrinsically more easygoing than black shoes. So when you pair brown shoes with black pants, then it has to be either a casual or a semi-formal setting only like a date, cocktail parties, after-office gatherings or for that matter may be a casual working day like a weekend.
This implies that earthy colored shoes with dark jeans/pants make for a snappy look that is material to both easygoing and semi-formal commitments.
2. Choosing the Right Shade of Brown
Ensuring the shades of your dress contrast with the shoes - is a fundamental stage for any men's outfit. And for that choosing the right shade of brown shoes is necessary. While there's nothing innately amiss with going for a more monochromatic look, using just a single tone for your outfit, this probably won't be the ideal look you're going for.
Do not go for darker brown dress shoes with black pants and similarly avoid dark brown shades of shoes with light colored pants/jeans. Your outfit must be such that the lighter shades of brown ought to be worn to underline the contrast between the two tones - of your shoes and your pants that must overall compliment the t-shirt/shirt. This draws out the best looks of the two pieces of clothing.
The only time when you can wear dark brown shoes with black overalls is when you wear a black full suit or a black Tuxedo!
Also Read: Best Shoes to Wear with Tuxedo

3. Choose the Right Color of Shirt
Thinking black pants, brown shoes, what color shirt? Well, the right top wear type and color is as necessary here as the selection of brown shoes with black pants. Thus, probably the most secure choices you can go for with regards to men's shirts and t-shirts are off white, cream, navy blue, maroon, and of course black or a shade of brown that gels with the shoes.
For example on a winter holiday night, a decent and basic look would be a white shirt with brown boots with black pants; you can layer this up with a jacket that matches the shade of the brown shoes.
4. Pair the Right Accessories with Black Pants and Brown Shoes
Brown boots with black pants or per se brown dress shoes with black pants require correct accessories to complete the overall men's outfit. If you are layering the shirt, wear a jacket matching the shoes, like white shirt with a brown jacket.
Your belt must also be in a shade of brown as per the shoes. If stepping out in sunny weather, look for sunglasses that give your outfit look as well as your persona an added charm - pick a suitable color, after wearing the whole ensemble to zero on at the right color of sunglasses. A wristwatch with leather straps befitting your shoes will be the icing on the cake!
In the event that you're searching for something somewhat snazzier, you can consider putting resources into embellishments like cufflinks, suspenders, and pocket squares.
5. Brown Boots with Black Jeans
When out for a hiking holiday, brown boots for black jeans and when out for say a date night brown boots with black pants, are a very sought after combination. Choose the right t-shirt or shirt respectively as discussed above and you are ready to rock the mood! 
Choose the Right Pair of Brown Shoes 
Brown shoes with black pants combination among the outfit for men, is a tricky thing because not all men love it or perhaps not all can carry it well. The reason being picking up the wrong kind of shoes. So let us run you through the right combinations:
1. Brown Derby Shoes
These fit perfectly well when you are out for a casual event or day. Thus when it comes to Derby brown shoes with black pants, pick the jeans over formal trousers. 
2. Brown Oxford Shoes
These come in the category of formal brown dress shoes with black pants. The black pants can either be trousers with a short, chinos with a shirt or of overall suits which can be semi-casual suits. Pairing brown oxford shoes with black trousers and layering the upper with a blazer can instantly transform a semi-formal look to a formal one. So now harm in keeping a blazer in your car! 
3. Brown Wingtip Shoes
A choice of the most stylish men. Black skin-fit jeans, ankle pants or chinos, cuffed distressed jeans and so on and so forth, you can pair these brown Wingtip shoes in a casual style like these. Or you can simply wear them with black trousers and a formal shirt or black suit as well.
The choice will depend on what kind of place or occasion you are walking into. Again a denim jacket or a blazer as an upper layer in case of a semi-formal event would be a good idea with brown shoes with black jeans/pants respectively. 
4. Brown Casual Shoes (Loafers or Sneakers)
When it comes to casual wear both loafers and sneakers can be counted as a safety net, if there is a sudden event call or friends' night. But what you have to remember here is that while loafers enhance the looks of black pants, sneakers must stay restricted to black jeans. In short, depending on the casual nature of the event/ occasion - like semi-casual or ultra-casual, decide upon your loafers and sneakers choice respectively. 
5. Brown Boots
Brown hiking boots specifically have a specific rugged charm that makes them function admirably with black jeans. For summers you can don a white t-shirt to look dapper. For winters a turtleneck sweater in a lighter shade of brown would make you a magnetic persona in brown boots and black jeans!
Pro Tips 
Light brown shoes create a casual outfit, while dark brown shoes transform a casual outfit to a semi-formal one.

When wearing a cream colored shirt with brown shoes and a black suit, go for a brown tie in a lighter shade to enhance the looks.
The belt, the strap of the watch, and your sunglasses must match the color of your shoes and not the pants.
White / light color shirt on brown shoes with black pants is a clean, chic date outfit for men, while a dark shirt should be preferred as a night outfit.
Things to Avoid
Avoid brown shoes with the shoe-tip pointed upwards unless you wish to look like an Elf!

Never light shades of brown with a black suit. Always wear dark brown shoes even if they are two toned shoes.
While wearing brown boots with black pants, ensure that your ankle does not peep out.
Don't over accessorize any outfit with brown dress shoes with black pants, because this combination is complete in itself to a certain extent.
Whatever you wear as an overall outfit look of that brown shoes with black pants combination, and never forget to wear a confident smile.
FAQs
Q1. Do light brown shoes go with black pants?
This can be a good idea if you are wearing an off white or brown shirt or a matching t-shirt that gels with light brown shoes and black pants as an overall outfit look.
Q2. What color shirt goes with black pants and brown shoes?
The answer to black pants, brown shoes, what color shirt, is answered perfectly by off white, white, shades of brown shirts that are matching the shoes. Even olive green, navy blue and of-course black shirts can also be worn.
Q3. Do brown shoes and brown belts go well with a black shirt and pants?
Yes, the belt should ideally be in the color of the shoes, unless it strikes off the color of the shirt. So this combination of brown belts and brown shoes with black pants is a good one.