The Art of Shoes Versatility: How to Style Your Favorite Shoes for Any Occasion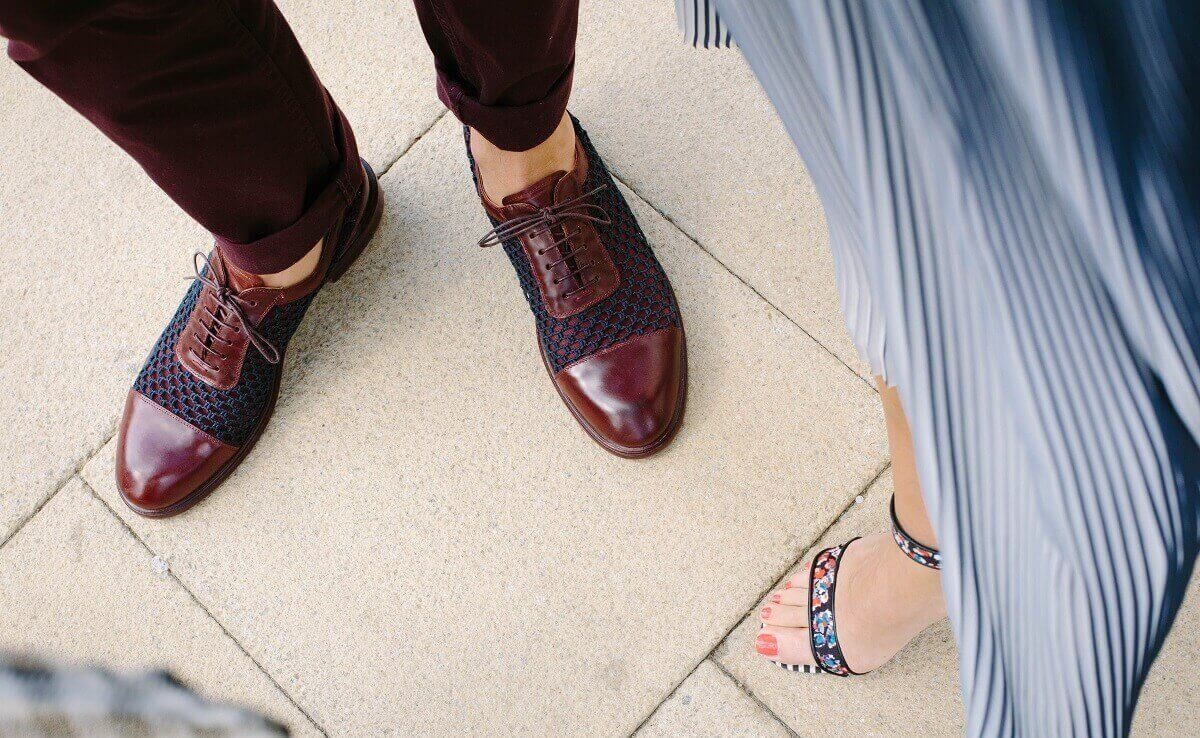 Are you tired of wearing the same shoes for every occasion? Do you want to learn how to style shoes in different ways to create unique looks? Well, look no further! In this article, we will explore types of shoes for different occasions, and how to style them for casual outings to formal events. Get ready to revamp your shoe game and make a statement wherever you go!
General Rules to Style Your Shoes
Experiment with Colors: Don't be afraid to step out of your comfort zone and try bold, vibrant colors that complement your outfit. A pop of color can instantly elevate your look and make your shoes the center of attention.
Consider Proportions: Pay attention to the proportions of your outfit when choosing shoes. If you're wearing casual attire, then go for colorful sneakers. For a more structured outfit, go for formal shoes. So you get it? Try different types of shoes for different occasions.
Mix and Match Textures: Add visual interest to your outfit by mixing different textures. Pair leather shoes with a chunky knit sweater or suede shoes with a flowy silk dress. The combination of textures adds depth and dimension to your overall look.
Play with Patterns: Patterns can bring a fun and playful element to your shoe game. Whether it's stripes, florals, or animal prints, incorporating patterned different shoes for different occasions into your outfit can add personality and make a fashion statement.
Pay Attention to Details: Small details like embellishments, buckles, or unique laces can make a significant difference in your shoe styling. These details can add a touch of sophistication or a hint of edginess to your overall look.
How to Style Shoes with Jeans
When it comes to pairing types of shoes for different occasions with jeans, there are several options that work well. One classic choice is a pair of ankle boots. Opt for a versatile neutral color like black or brown, which can be easily paired with different washes of jeans. Sneakers are another great option for a casual and comfortable look. White sneakers, in particular, can add a fresh and clean touch to your denim ensemble.
How to Style Casual Shoes with Cotton Trousers
For a more polished and put-together look, consider pairing casual shoes with cotton trousers. Loafers or boat shoes are excellent choices for this combination. Stick to neutral colors like tan or navy for a timeless and versatile look. The contrast between the casual shoes and the tailored trousers creates a stylish balance that can be worn as varied types of shoes for different occasions.
How to Style Shoes with Shorts
Shorts are a summer staple, and finding the right shoe to pair with them can elevate your warm-weather outfits. When it comes to shorts, sandals are a popular choice. Opt for strappy sandals or slides for a laid-back and effortless look. If you prefer a sportier vibe, canvas sneakers or espadrilles can add a cool and casual touch to your shorts ensemble.
How to Style Shoes for a Winter Look
Dressing for winter doesn't mean sacrificing style. When styling types of shoes for different occasions, for the colder months, boots are a must-have. Knee-high boots or ankle boots in rich, warm colors like burgundy or olive green can complement your winter outfits beautifully. To add extra warmth and coziness, consider pairing your boots with cozy socks that peek out at the top.
How to Sports Casuals for a Summer Look
Summer is the perfect time to embrace a sporty and casual look. Sneakers are a go-to choice for a comfortable and trendy summer ensemble. Opt for lightweight sneakers in breathable materials like canvas or mesh. Classic white sneakers are always a safe bet, but don't be afraid to experiment with colorful or patterned options to add a playful touch to your summer outfits.
Also Read: Best Business Casual Shoes for Men to Ace Your Office Look
How to Style Dress Shoes for Formal Events & Business Wear
When it comes to formal events or business wear, dress shoes are essential. Oxfords, brogues, and loafers are classic options that exude elegance and sophistication. Black or dark brown dress shoes are versatile and can be paired with a variety of formal outfits. For a more contemporary look, consider suede or patent leather options in unique colors like navy or burgundy.
Wearing the Right Shoe for the Right Occasion
It's crucial to wear the appropriate different shoes for different occasions. A casual shoe may not be suitable for a formal event, and vice versa. Pay attention to the dress code and the nature of the event to ensure you make the right shoe choice. A well-chosen shoe can enhance your overall look and leave a lasting impression.
Choose the Shoe that Fits Your Current Wardrobe
When styling your shoes, consider the rest of your wardrobe. Ensure that the shoe you choose complements your existing clothing items. A well-coordinated outfit will create a cohesive and stylish look. Take into account the colors, styles, and overall aesthetic of your wardrobe to make an ensemble of different shoes for different occasions and decisions related to the same.
Comfort is the Key, Always Pick Comfortable Shoes
While style is essential, comfort should never be compromised. Always choose types of shoes for different occasions, that are comfortable to wear for long periods. Ill-fitting or uncomfortable shoes can ruin your entire outfit and leave you feeling miserable. Look for shoes with adequate support, cushioning, and the right fit to ensure a pleasant wearing experience.
In conclusion, the answer to 'how to style shoes' for any occasion is an art that allows you to express your personal style and create unique looks. So go ahead, experiment, and have fun with different shoes for different occasions to create stunning outfits that reflect your personality and leave a lasting impression.