Best Men's Shoes to Wear with Shorts for Dapper Look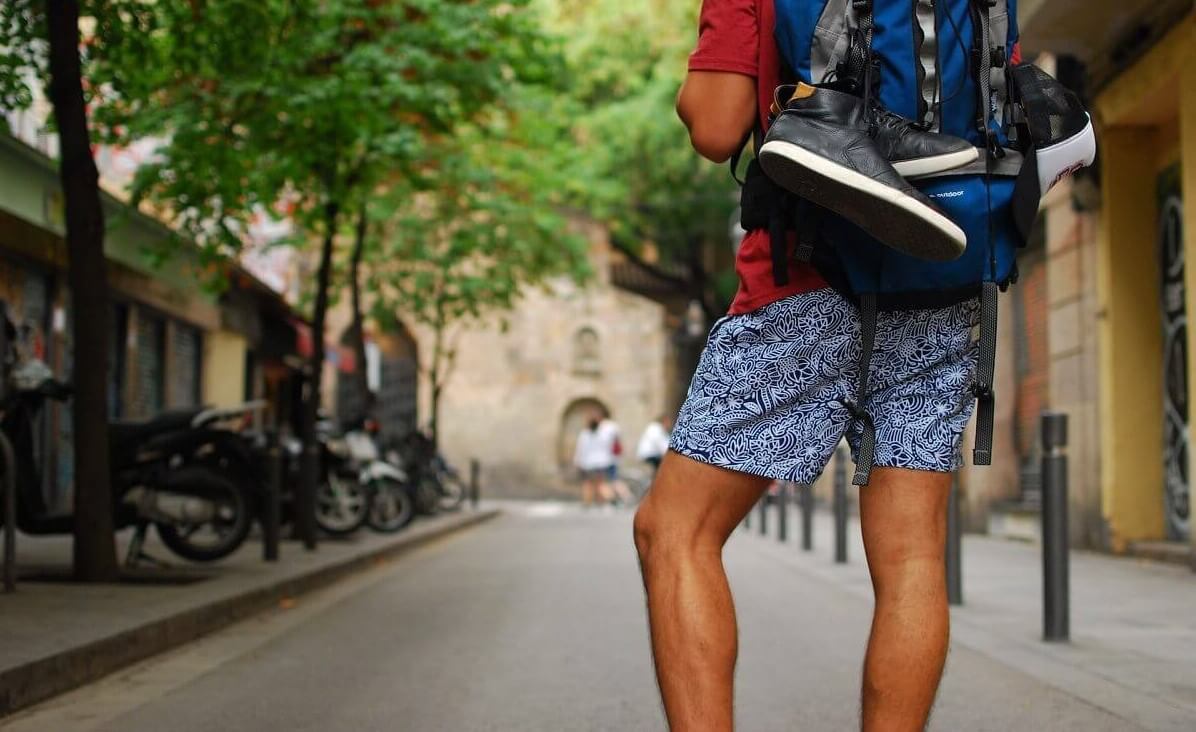 On account of their easily cool style and flexibility, men's shorts can be brandished for innumerable casual events during the hot months of the year and various clothing styles and looks. While this versatility pursuit of men's shorts is a simple decision of attire, it can likewise make settling with the best men's shoes to wear with shorts a tricky affair.
So, what shoes can men wear with shorts? How must you select shoes to wear with shorts male attires can be perfectly complemented with? Which pair of shoes will transform you instantly into a chic, cool man, even during a casual setting? Picking the right style of shoes with shorts is fundamental to making a sleek appearance.
Table of Contents
Best Shoes To Wear With Shorts
So many questions to answer? Don't fret at all, we are here to assist with men's shoes to wear with shorts. We will discuss each pair of shoes that lend you the best style and look; and how appropriately you can wear them.
1. Loafers
Loafers are the answer to what shoes can men wear with shorts, anytime anywhere, without thinking twice. The best thing about loafers as the best shoes to wear with shorts is that you can dress them up or dress them down, as per the casual occasion. For instance, a late Spring or early Fall barbecue party can have you wear leather Penny loafers with a button down shirt and shorts/Bermudas.
On the other hand, to drop your kids to a summer camp, you can pick chinos shorts, a suitable shirt and tassel loafers to look dapper, in sunglasses. In short, loafers and shorts are inseparable shoes to wear with shorts male wear.
2. Smart Casual Shoes / Sneakers
Hoping to try different things with street style with an upbeat fashion quotient? Then sneakers or casual shoes are a definitive decision among shoes to wear with shorts male attires. Regardless of your fashion awareness, these easygoing, agreeable yet chic shoes are a fundamental staple in your closet lasting through the year.
Coming out as one of the best shoes with shorts, casual shoes nail an easily cool taste, ideal for the late spring, summer and early Fall months. What's best is these can be spruced up or down to fit any event. For an everyday relaxed look, we suggest matching your shoes with a polo shirt or casual shirt. On the opposite finish of the range, a more conventional event requires a shirt and chino shorts.
3. Dress Shoes like Brogues, Oxfords and Derby's
Dress shoes with shorts will always mean a semi-formal look and style via the Brogues, Oxfords and Derby's. In addition to the fact that they are slick and trendy, yet they can likewise add a one of a kind touch to any outfit thanks to their unmistakable formal look. For instance, the Brogues' plans incorporate the full brogue (wingtip), half brogue, and quarter brogue. Similarly, Oxfords and Derbys also come in various styles and looks.
Also Read: Men's Brogues Shoes Types and Style
While styling an outfit, it's essential that shrewd dress shoes with shorts should be coordinated with some similarly brilliant shorts. Coupling dress shoes with customized shorts make a look that is ideal for a semi-formal environment like a cocktail party with the office team, a date night with your lady, a dance night with the office gang and more.
The way to making them look extraordinary is to pair them with a matching shirt. Simply make sure to dump the socks and grab a pair of shades. And this will complete your ultra-cool Spring, Summer and early Fall style and look.
4. Chukka Boots

What men's shoes to wear with shorts often goes beyond loafers with shorts, dress shoes with shorts, men's casual shoes with shorts. So go for Chukka Boots, if you are on a hike or some kind of trek in a Summer or Spring holiday. Opt for Chinos style of shorts or skinny skin-fit shorts, and the Derby's will never fail you as best shoes with shorts.
Also Read: Men's Fashion Guide to Style the Chukkas
A neutral tee and matching accessories will be the icing on the cake. The golden rule here is NO SOCKS or NO VISIBLE SOCKS!
5. High Top Shoes
High Top Shoes come in the category of youthful casual footwear among the most sought after men's casual shoes with shorts. from Khaki shorts and T-shirts in hot weather to chino shorts with light woolen sweaters in early Spring/Fall, the High Top Shoes are staple shoes to wear with shorts males look much dapper in.
Work with suitable Sunglasses and Belts to suit your aesthetics, the High Top Shoes will always keep you at the top of the fashion trends.
6. Boat Shoes

For a relaxed look pair your boat shoes are the best men's shoes to wear with shorts. Pair the boat shoes with one or the other denim or chino shorts, the shorts ought to be simply over the knee and of a thin fit. Wear this with either a T-shirt or a free summer, designer casual shirt (like a floral shirt on the beach would look great). This will radiate that easily cool style and look, that oozes charm even in the hot months. 
7. Sandals and Flip Flops
These are best beach wear or pool party shoes to wear with shorts male outfits can be awesomely paired with. Loose shorts, loose shirts or T-shirts and sandals or flip-flops are ideal for that super cool feeling in the Sun.
While sandals for men are a pool party wear, the flip-flops must be limited to the beach; it is all about which shoe will last better in what terrain. When you select flip-flops, ensure that these are in bright colors that compliment the overall outfit.
Pro Tips on Wear Shoes and Shorts 
The golden rule is to wear no socks or not visible socks to look great in your men's shoes to wear with shorts. Socks are again a no-no with Sandals and Flip flops. If at all you go for socks in dress shoes with shorts, then pick ankle socks only.

For shoes to wear with shorts, especially the loafers with shorts, flip flops and sandals, you need to ensure that your shoes are properly groomed. 

Avoid leather sandals on the beach and for a pool party, flip flops are a better idea as shoes with shorts in this case. 

When you select shoes to wear with shorts, ensure that your shirts must end a couple of inches above the knee. 

Always buy quality shoes when you pair them with shorts because even if these are casual wear, they must ooze out a dapper style and look. 
The Final Thoughts
Though we have listed some SEVEN best shoes to wear with shorts, that doesn't mean you stock up all shoes to wear with shorts in male outfits! Be wise, try out each as per your persona and individual style and then decide on three to four different shoes initially as your own best shoes with shorts. Don't forget to share the amazing images with us! And never forget to wear that confident smile as essential wear with any kind of men's outfit. Cheers!
FAQs
1. What kind of shoes goes best with shorts?
Sneakers, loafers with shorts, brogues, sandals, flip flops, boat shoes, and chukka boots are ideal with shorts. What you finally wear, will decide on the individual persona, look and style.
2. What kind of shoes goes with athletic shorts?
It is always a big nod to athletic shorts with sports shoes. While dress shoes with shorts are a strict no-no when it comes to athletic shorts.
3. What shoes look good with jean shorts?
Chukka boots with shorts are the perfect spring and autumn footwear for a holiday or hike. You can also try loafers with denim shorts, in case you are out for a casual get together or a date night.
4. What shoes to wear with polo and shorts?
Loafers and Boat shoes are the ideal men's shoes to wear with shorts. Depending on the terrain or event you can also pick sneakers and Chukka boots as well. A fitted T-shirt will be ideal to wear with Sunglasses.