The Ultimate Men's Dress Shoe Type Guide: The Style for Classic Men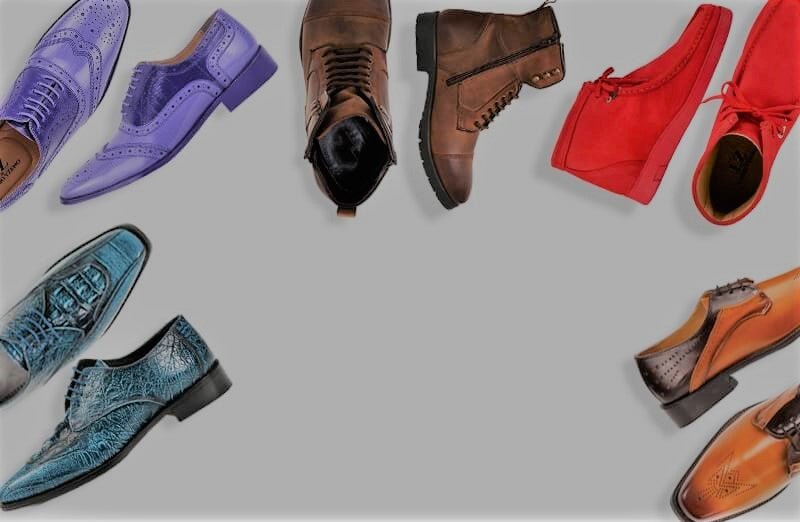 Owning a fantastic pair of shoes as per the latest men's dress shoes' style is no longer a luxury rather it's a necessity. Our men's dress shoes guide, today will not only throw light at the types of men's dress shoes but also help you to identify different types of dress shoes, what dress shoes are in style and fashion plus how to wear dress shoes. So let's get started!
Table of Contents
Style & Type of Dress Shoes for Men
There are basic SIX TYPES of men's dress shoes style and also what dress shoes are in style these days.
1. Oxford Shoes
Oxfords are timeless formal dress shoes for men and lend any man a very sophisticated style.
History of Oxford Shoes
This men's dress shoes style acquired prominence in 1800 among undergrad students, at Oxford University and hence the name.
How to Identify Oxford Shoes Style
The most unmistakable attribute of an Oxford shoe is that it is laced up. The shoe face is appended underneath its vamp with a 'closed-lacing' lending it a close fit.
How to Wear Oxford Shoes
Have the flexibility to be paired with any kind of outfit. As per our expert's men's dress shoes guide, the classic brown, black and tan Oxfords are formal wear. But brighter or dull colored Oxfords are casual wear.
Also Read: How to Wear Oxford Dress Shoes
2. Derby Shoes
By the looks, Derby Shoes look similar to the Oxford Dress Shoes, but these are more casual wear.
Also Read: Best Business Casual Wear Shoes for Men
History of Derby Shoes
Probably the most versatile of all shoes, the Derby was the most popular as hunting as well as sports shoes. By the turn of the twentieth century, the Derby had become popular as a style statement.
How to Identify Derby Shoes
The shoe face is appended to the top of the shoe vamp, rather than underneath it. This is what you can open lacing (while the Oxfords have closed-lacing). An open lacing allows a wider fit, which makes it comfortable during Derby events as well as while hunting.
How to Wear Derby Shoes
The Derbies are more of a casual men's dress shoes style, so avoid wearing a formal suit. Rather pair them up with Chinos, rolled up Chinos, jeans, half pants etc.
Also Read: Oxford VS Derby Shoes
3. Monk Strap Shoes
Buckle strapped shoe which is between Oxford and Derby when it comes to being casual.
History of Monk Strap Shoes
This men's dress shoes style gets the name from the monks who initially wore them. The straightforward shut-toe configuration gave more prominent protection to their feet over the monk sandals.
How to Identify Monk Strap Shoes
Their construction is similar to that of Oxford shoes, but instead of laces, these have either Single Strap, Double Strap or at times even a Triple Strap and hence the names respectively.
How to Wear Monk Strap Shoes
As per our experts' men's dress shoes guide Single Strap and Double Strap Monk Shoes can be donned as formal wear, while the Triple Monk Strap is usually ideal for jeans and Chinos.
Also Read: Monk Strap Shoes are a Must in a Stylish Men's Closet
4. Loafers
Laceless shoes that are well-known for their anytime-slip-into style & comfort. A moccasin-inspired shoe, hence very popular as typically as driving wear.
History of Men's Loafers
A casual in-house slipper was crafted for King George VI of England. Later these reached the U.S. in the 1930s and gained popularity only when the US lawyers and businessmen began wearing them in the 1960s to work, especially pairing them with formal suits. It was in 1966 that Gucci attached a horse-shoe shaped metal bit to the loafers that rose to fame as the BIT LOAFERS. This innovation lifted them from casual wear to formal wear.
How to Identify Loafers
Simple flat shoes with no laces, and easy to slip into is Loafers characteristic feature. When the shoe saddle has a metal bit, these are called BIT LOAFERS, when it has tassels these are called TASSEL LOAFERS and so on.
How to Wear Loafers
Clean Venetian loafers or metal bit embellished loafers add a sense of style to formal outfits for men. But the plain or tasseled ones look great casual men's lowers and watermelon socks.
5. Dress Boot
A short lace-up boot which is crafted like an Oxford, but has a longer shaft is called a Dress Boot.
History of Dress Boot
This men's dress shoes style is an English shoe with origins from the Victorian era in Scotland. It was originally called the "Balmoral" after Balmoral Castle.
How to Identify Dress Boot
The shape is similar to the Oxfords, but the shoe shaft is longer in the laced-up boots. At times these also have a wingtip brogueing along the seams and at the toe. Thus, it is often called the Brogue Shoe as well.
How to Wear Dress Boot
These types of men's dress shoes, when made in premium leather, are best paired with formal suits or other formal wear, especially in black, tan, brown. But the suede leather ones can be more of a casual shoe.
6. Chukka
A usually ankle-high leather boot that has either two or three pairs of eyelets or a buckle or a zipper at the ankle-length, is identifiable as a Chukka Boot.
History of Men's Chukka
Chukka word originates from CHAKKAR meaning a CIRCLE - and the shoes were born in the game of Polo wherein the match consists of six to eight circles. Hence the name Chukka. These were intended to be comfortable as well as protective wear during Polo. But these were originally worn by the British soldiers during the Western Desert Campaign of World War II hence were also called the Desert Boots. These became an everyday's style in the 1940s after these found a place at the 1949 Chicago Shoe Fair.
How to Identify Chukka Boots
This men's dress shoes style is identified by minimal stitching, either one to three eyelets or a zipper/strap; ankle-length and a rounded toe. Original ones have suede leather uppers with a leather sole, while the Desert Chukkas have a rubber sole. But with changing times, even the material has changed.
How to Wear Chukka Boots
These types of men's dress shoes are smart casual wear. These can be worn with smart casual pants, jeans as well as half pants to some extent, especially when you are hiking.
Also Read: Everything About Chukka Boot
Summing Up
When making an investment in premium quality footwear, always go for quality rather than quantity. And we guarantee you that if you abide by our men's dress shoes guide on different types of dress shoes and above tips on how to wear dress shoes, then you will be the head-turner in the smallest and the largest of gatherings!